Americana Reviews
Rhiannon Giddens & Francesco Turrisi Chris Thile 3Hattrio
Ryan Adams The Danberrys Underhill Rose
Carrie Elkin with Danny Schmidt Matt Andersen Carter Sampson
Rhiannon Giddens The Fretless Jeff Finlin & Clive Barnes
Special Consensus Cale Tyson Furnace Mountain Suzanne Vega
Chip Taylor Andrew Combs John Sheldon Michelle Shocked
Russell deCarle Trio/Laura Cortese & the Dance Cards
Webb Wilder Bronwynne Brent/The Railsplitters Diana Jones Woody Pines
Shuggie Otis Béla Fleck with the BBC SSO The Duhks with Alison Brown
Front Country Bruce Cockburn Corn Potato String Band Betty and the Boy
Chris Young Crosby Stills & Nash Hayes Carll Groanbox Larkin Poe
Slaid Cleaves Chuck Prophet & the Mission Express Hot Seats/Railsplitters
Danny Schmidt Foghorn Stringband Sarah MacDougall Rachel Ries
Lindsay Lou & the Flatbellys Ryan Adams Punch Brothers
Rhiannon Giddens & Francesco Turrisi, Celtic Connections 2021
Rhiannon Giddens has an association with Celtic Connections going back to her days with the old-time string band The Carolina Chocolate Drops, which first brought her to the Scottish public's attention, and includes singing with the bespoke Celtic Blues Orchestra in 2019.
In a Celtic Connections like no other, when musical communions have been taking place between Scotland and Nashville by the wonders of technology and other players have been filing performances from wherever they happened to be, Giddens and her partner, Italian multi-instrumentalist Francesco Turrisi made magic from their adopted home in Ireland.
On the stage of the National Concert Hall in Dublin, the duo conjured up both the intimacy of the Carolina Chocolate Drops and the power that would be required to soar above an orchestra. Giddens trained at the prestigious Oberlin Conservatory of Music in Ohio and this carried through in her singing in Italian, to Turrisi's simple Appalachian style banjo accompaniment, of a kind of operatic blues.
Opening with Calling Me Home, bluegrass heroine Alice Gerrard's as-authentic-as-it-gets gospel goodbye, Giddens pleaded with listeners to remember her stories, remember her songs after she's gone. With Turrisi 's accordion drone setting the scene perfectly, this hopefully way-too-premature plea couldn't have sounded more starkly or more affectingly soulful.
Oh Death, with Turrisi tapping a daf – a Middle Eastern frame drum similar to a bodhran – was equally moving, with Giddens at first caressing the melody and then taking it into stirring, gorgeous and apparently effortless vocal glissandi.
Aware that this was all becoming a bit dark, Giddens invoked Sister Rosetta Tharpe, exclaiming that you can't have the down without the up, stroking her octave viola with vigour to Turrisi's accordion obligati and hollering positivity with fabulous conviction.
All this performance lacked was an audience and for her finale, Giddens took it on trust that everyone watching on their TV screens, laptops or phones would be up for a singalong chorus. So if you weren't watching and you heard an impromptu Wednesday night prayer meeting next door, you'll know why now.
From The Times, February 2, 2021
Chris Thile, Thanks for Listening (Nonesuch)
There really seems to be no end to Chris Thile's talent. From the bluegrass wunderkind who released the astonishingly accomplished Leading Off aged thirteen in 1994, Thile has moved on through Bach partitas, jazz duos and sophisticated pop, via a MacArthur Fellowship that officially declared him a genius, to replacing Garrison Keillor as host of popular radio programme A Prairie Home Companion.
Not surprisingly, since part of his remit was to write a song each week, an album has resulted from this latest enterprise. And not surprisingly, given the involvement of another mega-talent, Thomas Bartlett, pianist with Irish music masters The Gloaming, it's wide ranging and frequently glorious.
The ten songs Thile and Bartlett worked up from nineteen candidates from the show are topical, tender, adventurous, enquiring and direct. At times, as on the solo voice and mandolin Balboa, it's as if Thile is communicating personally with the listener in the grand radio tradition. Elsewhere, with the added voices of Sarah Jarosz, Aoife O'Donovan and Guatemalan Gaby Moreno, Thile becomes a Brian Wilson for the Twitter age. Thank You, New York and Falsetto are great pop songs, stand-outs on an album that keeps calling listeners back.
From The Herald, December 16, 2017.
3hattrio, Traverse Theatre, Edinburgh
Greg Istock, Hal Cannon and Eli Wrankle don't play with a backdrop of the Utah desert behind them. They don't need to. As the trio, all wearing hats, as advertised, of varying styles, mix the colours of Istock's tapping double bass figures, Cannon's understated banjo picking, and Wrankle's superbly judged violin on their collective palette, the listener can easily imagine the view from Istock's cabin that inspired the morning jam sessions from which they created their singular sound.
It's all red rock and grand canyons and as Cannon intones his plainsman's poetry with his calm, wise and deep delivery, away in the corner of the landscape there's a herd of cattle being coaxed along the trail through the sand and wind. Yes, 3hattrio's performance is this atmospheric.
Largely acoustic but with a modicum of electronic assistance to enhance the elemental quality of their strumming, plucking and bowing, their music manages to sound fresh and current while also suggesting a time somewhere between the American Civil War and the arrival of the motor car.
One or two of the songs they sing actually date back to that time, Goodbye Old Paint being attributed to a former slave who worked the cattle trails while their own Along for the Ride is just as sepia-tinted through their carefully created accompaniment as through Istock's parched, characterful singing.
You might not expect a group who so wilfully and strongly go their own way to adhere to such conventions as audience participation and dramatic finales but Istock almost has this crowd singing in tongues, or at least tongue-twisters, and the end comes with a build-up that's subtly magisterial and magically transportive.

From The Herald, September 21, 2017
Ryan Adams, Usher Hall, Edinburgh
Ryan Adams may be medically averse to camera and mobile phone flashes, as the pre-set announcement said, but he doesn't seem to be allergic to smoke machines. The singer, songwriter, guitarist, producer, rocker and roots explorer from Jacksonville emerged through a dark cloud and finished the set proper so totally engulfed that it was pretty impressive that he and his band could negotiate the cues for the staccato finale.
In between times, in a show that had moments of pure rock 'n' roll theatre, Adams showed that, if the equipment fails, he can still produce the high end goods with just his expressive voice, an acoustic guitar and a harmonica rack. Indeed, his spontaneous troubadour set, while his techs fixed the problem, was a reminder of Adams' ability to conjure up three-dimensional imagery, not least pertaining to his home town through The End and Jacksonville Skyline's vivid depictions.
Normal service restored Adams and his road-hardened band rocked and rolled through songs variously concise, anthemic and jam band expansive. It's music of the current times, with a clearly broad age group appeal, that draws energy and in parts form from rockabilly, Bo Diddley, the Stones and the church, with deep chords and occasional solos from the organ adding richness and atmosphere to the powerful guitar band strumming and riffing.
Songs from Adams' latest album, Prisoner conveyed both theatre and classic heartbreak, with Adams singing Broken Already guitar-less and almost offering himself in backlit sacrifice. The title track moved from acoustic declamation to full band rage and Doomsday garnered audience participation that seemed to say, We feel your pain but it's a great tune, too.
From The Herald, September 18, 2017.
The Danberrys, Traverse Theatre, Edinburgh
Ben DeBerry has altogether too much fun at work. Between feeding the audience mischievous misinformation about song derivations and Southern States life, threatening to teach his wife, Dorothy Daniel, to read (she's a fully qualified accountant, turned professional singer), and getting round the fretboard of his guitar with conspicuous musicality, the staff side of the Danberrys partnership makes it easy to settle down with the group in person.
It's the musicality aspect that matters most and the Danberrys in this configuration, with double bassist Geoff Henderson completing a very compact trio with DeBerry and Daniel, project it in no small quantity. Their songs have a smart, up-to-the-minute quality, even when reworking an aged nursery rhyme on Rain, and yet a large part of their attraction and strength lies in the traditions they draw on in varying degrees.
Jug bands, bluegrass, gospel and country music's love affair with Fender Telecasters, here realised through DeBerry's sure, expressive acoustic flatpicking, all feed into song arrangements that find Henderson and DeBerry creating a momentous groove under strong and close two- and sometimes three-part harmonies.
The groove got swampy behind Daniel's beautifully clear singing of The Mountain and the combination of hard-edged guitar and bass riffing and committed singing gave the gospel-bluegrass-styled Working on a Building soulful power.
If Daniel, whose tambourine playing adds clearly defined percussive detail to the string-driven locomotion, never actually got round to explaini
2017ng, as promised, the story behind Don't Drink the Water, it mattered little. The message came through and there were tales, observations and leg-pulls enough over two thoroughly satisfying sets that deserved a bigger audience on an unusually quiet night for these Traverse Music Mondays.
From The Herald, June 21, 2017
Underhill Rose, Voodoo Rooms, Edinburgh
There is a school of thought that says it takes a lot of hard work to make something appear effortless. So we can only imagine the hours that Underhill Rose have put into their live presentation.
Except for certain factors that put a more exact date on matters, such as their versions of pop songs, the trio from Asheville, North Carolina have a sound that could belong to almost any time in the last hundred years or so, possibly longer. There's an old-time quality in their songwriting, an awareness of the mountain music tradition from their own locale, and yet they also pack a pop sensibility that gives songs like Little House, with its lovely refrain, and the slightly more jazz influenced The End of 27 a sophisticated catchiness that's hard to resist.
Playing guitar, banjo and string bass respectively, Molly Rose Reed, Eleanor Underhill and Salley Williamson sing in voices that never sound forced, gently find their place in each song's melodic structure and soothe with soft harmonies.
They're storytellers essentially, retailing memories of macho cowboys helping them carry their gear - and living to regret it - in Montana and preceding their gorgeous take on John Prine and Keith Sykes' Long Monday with a charming tale about tracking the latter down to ask for his blessing that involved dragging him away from his dinner rather than going through some percentage-charging business connection.
Bobbie Gentry's Ode to Billy Joe's charm radiated their down-home and honest singing of it and if the Whispering Pines Motel isn't paying them a marketing fee just for making its name sound desirable, then someone should have a word.
From The Herald, June 19, 2017
Carrie Elkin with Danny Schmidt, Admiral Bar, Glasgow
They didn't quite bring out the photos but no-one would have left in any doubt that Carrie Elkin and Danny Schmidt are the proud parents of eight-months-old Maisie.
The object of their affection sat out the gig back at the hotel with her grandmother and although she's at that awkward stage and won't admit it, it's a reasonable guess that she's quite proud of mum and dad, too.
She has every reason to be a fan because they make great music together. This was ostensibly Elkin's gig to showcase her latest album, The Penny Collector, and the focus fell on songs from it and the stories behind them in the second half. Schmidt's opening set, which was effectively a duo run through a handful of his songs, was no mere support slot, however.
Schmidt has the kind of soft, beguiling voice, aided by a beautifully relaxed guitar picking style that can turn even quite esoteric subject matter into warm, assured songwriting and with Elkin adding gentle harmonies and superbly judged vibrato, it was like eavesdropping on a living room session of concert hall quality.
They continued with this standard as Elkin shared tales of her father's coin collection – 600,000 pennies, which took days to bank – and wove lovely versions of songs by Richard Thompson (Dimming of the Day) and Paul Simon (a rueful, timely American Tune) into her own narrative. She's especially good at conveying atmosphere, both lyrically and in her deceptively simple guitar accompaniment, and her singing of New Mexico and Tilt-a-Whirl had the transporting effect of taking the listener with her to that state and that long ago carnival ride.
From The Herald, May 29, 2017
Matt Andersen, Mash House, Edinburgh
As big a man as Matt Andersen is – and the Canadian singer-guitarist is very big indeed – his talent is even bigger. For an hour and a quarter or so Andersen held his audience in thrall with an almost non-stop stream of songs sung with straight from the heart sincerity, superlative guitar picking and entertaining, roguish chat.
It's a mark of his ability that the songs from his latest album, Honest Man, a biggish rhythm and blues production with band and horn section, sounded absolutely complete with just his voice and guitar. But then this is no ordinary singer and guitarist.
Andersen runs through several alphabets of dynamic range, from a volcanic roar when he throws back his head and makes the PA redundant to a warm, confiding croon and from a full-on, piston-like rhythm 'n' rub to a tender caressing of the strings. What makes this all the more impressive is his attention to tone production at every increment both vocally and instrumentally and the union he creates between voice and guitar so that they're equal partners in a flow of music, a one-man orchestra.
I Play the Fool for You found him in bottleneck blues mode, deftly slipping a wolf whistle on the strings into a dark tale of the girlfriend that nobody in the social circle likes, and Round and Round was altogether happier, inviting audience participation. All human experience, or most of it anyway, is here and while My Old Friend the Blues in print might give the impression of someone about to wallow in self-pity, it turns out to be a quietly uplifting, life-affirming parting shot from a master craftsman.
From The Herald, May 25, 2017
Carter Sampson, Voodoo Rooms, Edinburgh
For a songwriter with an entertaining streak like Carter Sampson, the story of Katherine McHale Slaughterback is a gift.
A touring musician who named her campervan Mother Maybelle, after the matriarch of country music's leading family and her heroic penchant for practicality in all circumstances, Sampson can also fashion a song out of most experiences.
Her subject matter ranges from the havoc wreaked by tornados in her native Oklahoma to the unalloyed joy of attending the Rev Al Green's Memphis church and the frustrations of falling for a flamenco guitarist more concerned with arpeggios than amorous reciprocity.
So, not surprisingly, a woman who fought off rattlesnakes for three hours and turned her vanquished foes into a dress, a pair of shoes and a line in rattler jewelry, makes a distinctly compelling heroine in Sampson's Rattlesnake Kate. It's a breathless tale, superbly well told and sung by a performer who clearly associates with Slaughterback's character.
Accompanied by Dutch singer and guitarist BJ Baartmans, Sampson created a series of real life, country-rockin' vignettes that transported the Voodoo Rooms' Speakeasy to the heart of America. She sings with conviction and writes with honesty, detailing her own lonesome heart and gypsy soul in darker moments but also lightening up with her offbeat desire to become the queen of Oklahoma.
She has a fine partner in Baartmans, who flatpicked with energy, fingerpicked nimbly and applied fiery or tender slide guitar as the mood required, enhancing the one non-original, Shel Silverstein's Queen of the Silver Dollar's picaresque honky-tonk atmosphere and lending the Carter Family-esque Medicine River an airy quality in keeping with its celebration of rural open space.
From The Herald, May 4, 2017
Rhiannon Giddens, Queen's Hall, Edinburgh
There is a guilty pleasure in hearing Rhiannon Giddens singing Richard Farina's Birmingham Sunday and Pops Staples' Freedom Highway. These songs were written to document the civil rights struggle in America during the 1960s. They should be artefacts of a bygone era yet events since have kept them all too current.
Giddens sings them, as she later does Sister Rosetta Tharpe's Up Above My Head and her own songs drawn from historical accounts with a power, passion, dignity and authenticity that suggest future generations might discover her with the same sense of striking musical gold that baby boomers felt on hearing Tharpe, Odetta and Nina Simone.
She's a wonderful singer, capable of making the hairs on the back of your neck rise with a scat chorus on the intoxicating shuffle of The Love We Almost Had or her expert conducting of her band's punctuations while extemporising glorious melismatic phrases on the field holler-esque Water Boy.
In what was essentially a compact roots music festival, where Cajun, gospel and an almost defiant Gaelic peurt-a-beul that brought the house down sat easily alongside old-time fiddle and banjo tunes, Giddens underlined her own musical resourcefulness and that of her musicians, including her co-writer and co-producer, Dirk Powell and Hubby Jenkins, both making multi-instrumentalist the most elastic of terms.
Her singing of Hank Cochran's She's Got You captured the title of the song's parent album, Hits from the Heart and then some with its wit, pathos and soul-bearing bereftness and what a treat it must have been for young Stirling-based accordionist and Powell protégé, Neil Sutcliffe to be invited to join her band and play his part in a great occasion.
From The Herald, April 4, 2017
The Fretless, Bird's Nest (own label)
Canadian foursome The Fretless have won several prestigious awards at home for an approach to music that puts them broadly in the same virtuosic, searching 'folk on the cusp of chamber music' camp as Scottish marvels Catriona McKay & Chris Stout and Scandinavians Dreamers' Circus.
With three fiddlers, all doubling on viola, and a cellist, this is essentially a string quartet and the players involved bring the temperament and musicality of that tradition to music that has its roots in Irish and Scottish dance metres, old-time Americana, bluegrass, swing and occasionally something more akin to a pop song structure.
The tunes are catchy and the arrangements full of imagination, detail, energy and tonal variation as jigs and reels modulate with winning unpredictability, a Steve Reich-like figure bursts into swashbuckling percussive attack, strings shiver with almost backing vocal-like murmuring behind a sweetly nimble melody, and the band rocks with gritty urgency.
Opening track Alphonzo McKenzie's sings with harmony to smart chip 'n' strum accompaniment and Maybe Molly takes a back porch hoedown on an improvised but highly disciplined adventure. Word is they might be over this way in the months ahead; they'll certainly be worth catching.
From The Herald, March 31, 2017
Jeff Finlin & Clive Barnes, Voodoo Rooms, Edinburgh
In his solo slot half-way through the gig, Jeff Finlin's accompanist and companion on this latest tour, Clive Barnes introduced himself as someone who's been around for a long time but managed to remain unknown.
This isn't entirely true, as in certain guitar player-savvy circles the Irishman is spoken of, rightly, with reverence. He's not a household name, certainly, and the same can be said of Ohio-born, sometime Wyoming resident Finlin, who has had brushes with major labels and film soundtracks but hasn't reached the audience his talent merits.
This is a talent that can pick up a phrase from a radio interview and use it to create a song that not only stayed in this reviewer's mind on first exposure to Finlin back in the days when the Bein Inn in Glenfarg was in its Americana-promoting pomp but has endured. Listening here to Finlin and Barnes deliver that song, The Perfect Mark of Cain, and others such as the similarly impactful Postcard from Topeka, it struck me that they must have one of those live recordings in them that can, with a following wind, transform careers.
They make a potent combination: Finlin has a voice that carries a whole lot of ache and other than a certain Randy Newmanesque tone in certain registers, sounds distinctively, soulfully his own; and Barnes' electric guitar playing – he played acoustic slide and multi-part fingerpicking in his solo spot – adds muscle to Finlin's melodies and drama to his song structures and characterful lyrics. Jesus Was a Motorcycle Man's refrain was a particular but by no means isolated example, voice and guitar flying deliciously in tandem.
From The Herald, February 20, 2017
Special Consensus, Glasgow Royal Concert Hall
Bluegrass has moved on since Special Consensus formed in Chicago in 1975 as younger generations of musicians raised in the music's traditions have sought new routes for their roots. There is still, however, innate potency and excitement in the foundations of a branch of country music that has maintained its acoustic values, and if ever an example were needed, this was it.
Its blend of raw expression, sophisticated musicianship and collective vigour has sometimes led to bluegrass being described as Virginia bebop and this became very close to the literal truth as sole founder member and banjo player Greg Cahill, guitarist Rick Faris, mandolinist Nick Dumas and bassist Dan Eubanks tore through and extemporised on Irving Berlin's Blue Skies as many jazz musicians have done before them.
Songs closer to the spirit that bluegrass godfather Bill Monroe exemplified and the music has come to embody, a kind of walking of a line between losing at love, finding a friend in Jesus and seeking solace or just sheer profit in moonshine, found Faris and Dumas singing with earnest bluesiness and all four musicians coming together in full-voiced harmony before breaking off on solo improvisations that didn't get passed on like a relay baton so much as a hot coal.
Even a broken string couldn't put the brakes on Faris' flatpicking locomotion and as they returned for an encore the individual features that preceded the song itself – Dumas' mandolin picking reaching improbable liquidity; Eubanks playing with superb eloquence and mobility while honouring the blues – showed they have more than enough adventure, invention and creativity to succeed in the more contemporary bluegrass forms should they so wish.
From The Herald, February 1, 2017
Cale Tyson Voodoo Rooms, Edinburgh
Everything is research when you're a songwriter. Even a visit to a bar that has no running water and is inundated with sewage can produce a poetic verse and a memorable chorus, especially if you're Cale Tyson and you have, as appears to be the case, your songwriter's sensors on permanent alert seeking raw material for tears in your beer, cry into your rye country anthems.
Although he doesn't, as yet, have a record label back home in Nashville, Tyson is the real-deal. His songs channel cheatin' and hurtin', ramblin' and gamblin', drinkin' and sinkin' into easily hummable, true-to-life tales straight from the honky tonks. Before country music became just another branch of arena rock, this was what country fans used to soundtrack their lives and fuel their weekends.
With a band that gave his blues and bourbon stained voice the energy rush or the downbeat moodiness it required with finger-snap precision, Tyson turned the Voodoo Rooms ballroom into a roadhouse on the edge of town.
A couple of acoustic songs, one solo, the other with support act Erin Rae and drummer Dom Billett adding heartfelt vocal harmonies, emphasised the authenticity of his writing and singing. The bonus of having the band on hand, though, was the groove it offered, particularly on a swamptrash cover of Willie Nelson's Shotgun Willie, and the ace Telecaster licks and superb pedal steel seasoning that English picker Chris Hillman added.
"You can get out of town but you can never get out of my mind," Tyson tells one heartbreaker and for all his what-the-hell between-song humour and bravado, he sounds like he means it – and that's what matters.
From The Herald, November 14, 2016
Furnace Mountain, Traverse Theatre, Edinburgh
There were times when this concert came close to an update of the Dillards' Live!!! Almost!!! album with added extras. The Dillards' Elektra records were rites of passage for bluegrass fans of a certain age and Furnace Mountain could well have the same effect on subsequent generations.
Danny Knicely's observations on Berryville, Virginia and other quips were straight out of the Dillards school and his almost liquefied mandolin playing alongside David Van Deventer's fiddle mastery added to the whole back porch bluegrass ethos of apparently casually delivered brilliance.
What Furnace Mountain has that sets the group apart, though, is the sugar 'n' spice vocal partnership Aimee Curl and Morgan Morrison use to make vintage Carter Family songs such as By the Touch of Her Hand sound at once like ancient wisdom and a freshly minted message and to give their own writing a gorgeous blend of strength and vulnerability.
Curl, on double bass, and Morrison, on bouzouki, are also the quietly effective rock that forms the basis for the quartet's instrumental prowess. Van Deventer's Inchworm Set and a tune of Morrison's that featured phrases tossed back and forth across the stage, demonstrated the kind of inventiveness they can apply to traditional Appalachian picking styles and Knicely's mandolin improvisation on Ashby's Breakdown was the sort of thing that can be dangerous if done too closely to flammable material.
With Knicely doubling on fiddle – and also percussion in the form of step dancing – there's a richness to Furnace Mountain's sound as well as a character that's been passed down the generations and adds to the impression that they don't just play this music, they live it.
From The Herald, October 27, 2016
Suzanne Vega, Queen's Hall, Edinburgh
Suzanne Vega faces a dilemma on her latest tour. Does she put the songs from her latest album, Lover, Beloved, after which the tour is named, at the beginning of the set or should she work towards them with more familiar material?
With the quietly persuasive personality she exudes, it probably doesn't matter although the softening up approach she used here, with just sometime David Bowie guitarist Gerry Leonard for company to begin with, worked splendidly. Leonard can give off the energy of a whole band or the eerie ambience of a haunted cave and Vega tuned into both with stagecraft that's cool and self-possessed and a voice that conveys characterisation and narrative with beautiful assurance.
She has an actor's presence, almost literally growing into Marlene on the Wall's Dietrich role by the simple expedient of bashing a top hat to its full height and popping it on her head and she gives just enough away in her introductions to make songs such as the one she wrote to celebrate a summer love at eighteen something you want to hear.
Lover, Beloved is inspired by writer Carson McCullers and with Jason Hart, on keyboards, joining Vega and Leonard, the songs from it were entrancing. The album has the kind of of-the-times atmosphere and smart lyricism that makes for compelling listening and Vega captures McCullers' wit, poetic sensibility and bitchiness brilliantly.
With an unlit cigarette as a prop, she made McCullers flesh, especially in the marvellously disdaining, opposition obliterating Harper Lee, and as a parting shot, Carson's Last Supper was a glorious carousal in the Kurt Weill-Jacques Brel tradition but with added charm.
From The Herald, October 11, 2016
Chip Taylor, Classic Grand, Glasgow
An evening with Chip Taylor invokes a cast much bigger than the legendary songwriter and his long-time friend, guitarist John Platania. It's a journey through Taylor's life, including his golf-pro father's insistence that his boys be excused school on Monday afternoons to honour unlikely "services", with some sixty years of songs mined from country music and rock 'n' roll's progress from Bakelite radio days onwards.
Taylor is a quietly spoken septuagenarian with several lifetimes, it seems, of experiences. One of his brothers is actor Jon Voight (the other, Barry, is as big in geology as Chip and Jon are in their respective fields) and his tale of leaving the cinema after marvelling at Bill Haley's musical triumph in Blackboard Jungle, only to find Jon intent on dissecting the film scene by scene, maybe explains how they both found success.
As he links songs with recollections of Chet Atkins, Jimi Hendrix, The Troggs, Lionel Ritchie, Elvis Costello and the ill-starred Evie Sands, and Platania expertly weaves in blues, country, rock and soul licks, Taylor's mastery with words and music – and mischief – almost sings for him.
He's no sage in an ivory tower. He's written enough hits to be comfortably off – Wild Thing, Angel of the Morning, Any Way that You Want Me all figure – but he relates to the world, feels refugee children's pain, asks who's going to build Trump's wall and spontaneously serenades the noisy neighbours in the club upstairs. The sense of community he creates is natural and it's little wonder that prison audiences, as this crowd does also, sing along lustily to his cheekiest, but alas unprintable here, refrain.
From The Herald, October 10, 2016
Andrew Combs, Voodoo Rooms, Edinburgh
From the opening song it's clear that there's a bit more to Andrew Combs than three chords and the truth. There's nothing wrong with simplicity, of course, and it continues to serve many a troubadour well, but there's something refreshing and downright appealing about Combs' sense of harmonic and melodic enquiry.
It's the Nashville-based singer-songwriter's guitar playing that makes the first impression onstage, his lightly percussive finger-picking denoting a confident solo performer whose studio work is often much more liberally arranged. As he moves into a more chordal approach his guitar playing keeps a subtle backbeat behind a voice that suggests as much cultured Memphis soul as it does rootsy country and he's not afraid to use it wordlessly as a tool to develop a song's shape.
His "mouth trumpet" solo on Rose Coloured Blues was authentically brassy. He also gets close to yodelling on occasion and even adds some whistling that's as soulful as his singing. As was the case with his touring buddy and opening act here, Barna Howard from Eureka, Missouri, he enhances his lyrics with rich, well observed characterisation and honest realism. Combs might have self-deprecatingly dismissed his Pearl as "my social worker's song" but it distils many believably troubled lives into its gritty lines and Foolin' brings him wittily into the age – and exaggerations – of social media.
In the end it's Combs' craftsmanship that stays with the listener. You get the sense of someone who's studied songwriting, from Buddy Holly through the Beatles, Dan Penn and John Hartford, and without necessarily sounding like them has let their spirits guide him as he's found his own classy way.
From The Herald, September 9, 2016
John Sheldon: The Red Guitar, theSpace @ Surgeons Hall, Edinburgh
There's a moment in The Red Guitar, as John Sheldon brings his song The Grand Parade from germ of an idea to finished article, when it becomes clear that his fifty minutes are drawing to a close far, far too quickly. It's not every Fringe show that has such moments but Sheldon makes the time pass through his storytelling and real guitar mastery across the musical spectrum.
He begins in 1954 when America and Russia are vying to see who can build the biggest bomb and Leo Fender unleashes a weapon of mass seduction, the Stratocaster. Sheldon is too young to cotton onto its attractions just then but it's not too long before the guitar enters his life, courtesy of his dad buying himself one. Soon after it departs into the hands of one James Taylor.
What follows is brilliantly observed and beautifully told. There's the inhalation of music and information from LPs, Taylor's generosity with his own guitar discoveries, and the splendid watershed when Sheldon learns the connecting lick in Jesse Fuller's San Francisco Bay Blues. These are followed by cheeky putdowns, mental breakdowns, rock 'n' roll deaths, and shoulders rubbed with Jimi Hendrix and Jim Hodder, the ill-starred Steely Dan drummer.
One of the best bits has Sheldon adapting a chord progression from jazz guitar hero Grant Green only to have it appropriated by Van Morrison. You might know it as Moondance. There's a lot of information, some of it arcane, but Sheldon makes it all easily digestible by being so downright human and such great company. I'd go again. Run ends August 20.
From The Herald, August 15, 2016
Michelle Shocked, New Town Theatre, Edinburgh
Even by the standards of the Fringe, where intimate performance spaces are quite commonplace, the first nights of Michelle Shocked's New Town Theatre residency have a collectors' item quality, with the audience joining her onstage and the Texan troubadour singing and playing guitar acoustically. If you liked her best known song, Anchorage, and fancy hearing it as if Shocked is sharing it with you in your kitchen, then get along before the word gets out and the PA gets turned on.
Anchorage, with its informal updates on the various characters therein, was the bonus track on Saturday. Over twenty-four nights Shocked is rotating her Mercury trilogy of albums and this was Arkansas Traveler's turn, many of its songs drawing directly on Shocked's musical roots and influences. Hold Me Back picks up the story of Frankie and Johnny and Prodigal Daughter revises Cotton Eyed Joe, and the background to Shocked taking poetic licence becomes an integral, winning element of their performance.
She turned the audience into her personal choir with her girls and boys singalong parts, made sure the youngsters accompanying their parents didn't feel left out of the adult's fun and latterly magicked up a fiddler, who played from the auditorium on the songs based on traditional reels. Even in an age when stars interact with fans through social media, this felt like a down-home, down to earth, direct, open, and friendly meeting with an honest and occasionally indiscreet (Billy Bragg, how could you?) personality.
From The Herald, August 8, 2016
Russell deCarle Trio/Laura Cortese & the Dance Cards, Traverse Theatre, Edinburgh
Another Traverse Music Mondays double bill delivered more good music than should reasonably be expected on a school night. Laura Cortese & the Dance Cards is a string band with a difference. The San Francisco-born, Boston-based Cortese has gathered together a string quartet – her own and Jenna Moynihan's fiddles, Valerie Thompson's cello and Natalie Bohrn's double bass – to play her own rootsy pop songs and the occasional Scottish reel.
It's a quietly potent combination with pizzicato figures giving the songs both an intoxicating, raw energy and certain direction and bowing introducing a lusher sound but with a confident, percussive drive. There's no little charm to their music and their vocal harmonies underline this, nowhere more so than on their offstage, surround sound acoustic encore which achieved a lovely blend of understated drama and delicacy.
Canadian Russell deCarle has been around the block and done major time in Canada's prairie roadhouses in a career that's enjoyed significant success with country rockers Prairie Oyster. With accordionist Denis Keldie and guitarist Steve Briggs he presents a master class in slow burning country, Tex Mex and western swing that's big on character and grows with the unflashy expertise and spontaneous creativity of Keldie and Briggs' instrumental illuminations.
DeCarle has a fine, lean, mean and lived-in voice that delivers songs such as Hank Snow's I Don't Hurt Anymore, Charlie Rich's Mohair Sam and his own celebration of Tanqueray Gin with absolute believability. After a generous set that roamed endless highways and rail tracks someone suggested that they just play all night and they sounded like they could without running out of gas or musical ideas.
From The Herald, April 28, 2016
Webb Wilder, Green Hotel, Kinross
For someone who was reluctant to step out on stages as a lone guitar slinger Webb Wilder has certainly conquered any fears the possibility presented. Without pulling out any death-defying tricks Wilder manages an admirable self-sufficiency, playing acoustic guitar with superbly measured attack and deftly inserted detail that in partnership with his big, deep masculine voice present him as a one-man bar band – and a very entertaining one at that.
The Nashville-based, Mississippi-born troubadour would prefer not to be placed in any one musical category. Which is just as well because in a set, for a good part of which he showed excellent credentials as a human jukebox, he switched from country to soul to surf to blues to wherever the narrative of his enthusiasms took him.
More than a performer, although he has an amiable onstage authority, Wilder is a sharer. Of anecdotes. Of musical minutiae. Of thoughts. A sudden aside will take him into something he hadn't intended to sing and despite his apologies for it not being up to standard, it'll be worth hearing, another instalment of a musical history that runs from 1960s Biloxi garage band The One-Way Street and Them-era Van Morrison through his own attempt at writing a New Orleans song (the entirely believable More Like Me), co-writing the splendid Only a Fool with Dan Penn and the legacy of his Aunt Lillian's Trumpet label.
Exploring Trumpet in depth is on his bucket list and if his masterly take on Willie Love and His Three Aces' urgently mobile V-8 Ford, one of his aunt's prized captures, is any guide, then he's sitting on a potential blues roots classic.
From The Herald, April 25, 2016
Bronwynne Brent/The Railsplitters, Traverse Theatre, Edinburgh
A woman from Mississippi walks into a bar in Scotland and …. meets another woman from Mississippi. Lauren Stovall, the Railsplitters' lead singer-guitarist, and Bronwynne Brent didn't know each other before encountering each other on Monday, although they appear to have a few mutual friends, but between them, they and their respective bands presented a fair old slice of American vernacular music.
Singer-guitarist Brent doesn't give much, if anything, away between songs. Behind her girlish, aw shucks laugh, though, lurks more than a hint of true life experience in the finely chiselled poetry of her songwriting while her choice of songs to interpret helps to colour in what might lie behind her musical development. Her singing of Sister Rosetta Tharpe's Two Little Fishes and Five Loaves of Bread and the standards No Moon At All and After You've Gone carried a whole lot more depth than her claims of them being fun to sing implied.
Her songs' arrangements, with guitarist Joe Restivo adding understated but strong gospel-jazz-blues commentaries and our own Euan Burton rooting Brent and Restivo's mutual six-string understanding with supple double bass figures, package the inherent heartbreak and darkness with a directness that adds to both her soulful appeal and her intriguing mysteriousness.
The Colorado-based Railsplitters have graced these Traverse Music Mondays before and impressed again with superb vocal harmonies and instrumental dynamics that take bluegrass instrumentation into sophisticated pop songwriting as well as traditional folk and rock 'n' roll material. Their take on Buddy Holly's Oh Boy, complete with Holly-style glasses all round, had a touch of novelty but shouldn't detract from the seriously high quality of their singing and playing chops.
From The Herald, April 21, 2016
There's always been an element of a musical séance – in the best possible way – about Diana Jones' concerts. Jones' voyage of discovery, from growing up in New York as an adopted child to finding her natural family with its comingling with Cherokee blood in Appalachia, has given the songs that have resulted and her singing of them a sense of calling up spirits.
Even when she's the medium for the message of someone completely unrelated, such as the Scottish-born miner Henry Russell, whose last words to his wife, written in coal on a paper bag down a West Virginia mine Jones has turned into a poignant, haunting folk ballad, her lightness of touch takes her deep into the human soul.
She was accompanied here by guitarist-singer Daniel Meade, who variously embellished Jones' own simple guitar picking with sensitivity, added quietly effective vocal support or slipped into the shadows as required, and with her plaintive alto giving voice to often prayerful words she managed the trick of transporting the listener far from the CCA's functional atmosphere.
You could almost see the mountains whose fate, as industry moves in and irrevocably alters the topography, she mourns in a heartfelt Appalachia and feel the temperature and texture of the cold grey ground her character asks not to be buried in.
Jones jokes that happiness doesn't feature much in her work. That's true. Even among the heartbreak and songs including a prayer of understanding for her delinquent brother, however, there's an overriding feeling that better times are coming and the kind of melodic optimism that makes O Sinner the sort of parting song that stays with you all the way home.
From The Herald, April 14, 2016
Woody Pines, Traverse Theatre, Edinburgh
You can almost hear the sizzle and crackle of 78 rpm recordings as Woody Pines and his accomplices swing through the vintage era that put American vernacular music from the elemental longing of Doc Boggs and Hank Williams to the rarefied urbaneness of Irving Berlin onto shellac.
Except, what Pines has been doing on previous visits from Tennessee and is doing with greater verve than ever, with six string wizz Josh Irwin and the alternately rumbling and percussive Dakota Collins on doghouse bass, is putting his audience as close as they'll get to being in the same room as the masters who created the originals and inspired Pines' own authentic-sounding efforts at Highway 61 reportage.
In another age Pines might well have run a medicine show. Indeed, he's running one now, providing aural tonics without the need for snake oil salesmanship. At the same time his relaying of vignettes where shirt-sleeved, waistcoat-wearing, behatted swains defend their women's honour, where automobiles expire after heroic odysseys over state line after state line and where tobacco chewers make Sir Alex Ferguson's jaws look inactive by comparison renders these scenes almost inhabitable.
He's helped no end by his own lived-in vocals and the marvellous energy of Collins's slappin', snappin' momentum – even when four strings become three – and Irwin's rugged yet sweetly phrased and inventive within the form guitar improvisations. Like those aforementioned automobiles, Pines roams the interstates, from Tin Pan Alley for the swinging, suave My Walking Stick, down to the Mississippi for John Hurt's relaxed, sensuous Richland Woman Blues and over to California for the trad jazz Dinah. He covers the miles and we reap the rewards.
From The Herald, March 10, 2016
Shuggie Otis, Liquid Room, Edinburgh
The moustache has long since ceased to require inking to camouflage his youth, as was the case when Shuggie Otis joined his father, Johnny's band, aged twelve, in the 1960s. In the years since then there have been pedestals he didn't want to occupy, job offers from the Rolling Stones he turned down, decades without records, hits for other people. Quite a life, it would seem from his careworn vocals.
If only he'd had half his dad's ambition or more appropriately here, a smidgeon of his demon keyboards player-cousin, Swang's New Orleans dandy swagger, surely Shuggie would have been a star. In his own way he is. He may not have the strongest voice but he means all the words and his guitar playing, when he can keep the thing in tune, comes straight from the heart with solo building nous that consistently hits the tingle target.
Crucially, despite his apparent diffidence, he can lead a band through grooves that go for - and reach – the solar plexus whatever the genre. At various times this was the soul gig of the year, the funk one, the blues one – Me and My Woman was simply epic storytelling – and the toughest, rough-house R&B one, with tenor saxophonist Albert Wing blowing improbably high, improbably long, convincingly beseeching notes.
With son Eric a vital bass guitar presence and brother Nick an irresistible drumming force, it's a family concern that doesn't exactly overstay its welcome but covers the bases, including a Strawberry Letter 23 that made the Brothers Johnson's exuberant hit version sound almost apologetic, and leaves the stage to the already departed Shuggie's guitar-still- feeding-back howl.
From The Herald, February 22, 2016
Béla Fleck with the BBC SSO, City Halls, Glasgow
His demeanour suggested someone who feared he might be about to live up to the title of his first concerto, The Impostor, but Béla Fleck sounded entirely at home with the BBC Scottish Symphony Orchestra. Fleck has taken his banjo into all sorts of musical environments and just as he immerses himself in jazz duets with pianist Chick Corea and has previously mined the very heart of African traditions, so he has composed an orchestral work that explores the possibilities in depth rather than drawing in nicely shaded accompaniments.
Call and response passages with woodwinds and brass emphasised the first movement's folksy flavour, with the banjo tracing a supplementary song pattern, and tubular bells enhanced the second's dramatic quality, eerie dissonances and cheeky banjo harmonics adding to the contrasts. It was in the third, though, where Fleck really began to fly as both composer and instrumentalist. Its bluegrass strings sounded like a natural extension of the banjo, and New Orleans riffs and mewling, bluesy clarinet confirmed that the "impostor" had succeeded in capturing whole swathes of Americana, while the candenza was vintage Fleck, flowing, high speed arpeggios, brilliantly imaginative inversions and strings positively singing with musicality.
Singing musicality also featured in the concert's coda, where Liam O'Flynn, whose uilleann pipes had sometimes been overpowered by the orchestra in full cry during the first half, joined Fleck, guitarist Arty McGlynn and keyboardist Rod McVey in a superbly measured jig, The Gold Ring. This was a virtuosic meeting with O'Flynn and Fleck playing with fabulous expression and such wonderful fluency and understanding that it begs a rematch at greater length.
From The Herald, January 25, 2016
The Duhks with Alison Brown, Old Fruitmarket, Glasgow
The banjo fought back with this concert. The butt of many a joke, a few of which were shared here, in the right hands the banjo can be as eloquent an instrument as any Stradivarius or Steinway. It can also kick ass, as Leonard Podolak of the Duhks illustrated.
For their final number the Duhks reintroduced Alison Brown, whose band had earlier defined the term well-tempered. Brown's been coming to Glasgow since the days of Mayfest and her blend of mellow, bluegrass-soaked jazz – or it might be the other way round – has a cosy familiarity.
That doesn't mean we've heard it all before, though, and if her take on Cyndi Lauper's Time After Time suggested late-period Miles Davis hanging out with the Nashville cats, then her romp through The Mason's Apron, following brilliantly expressive fiddle and piano breaks, took even her supreme banjo picking into new realms beyond fluency, with blue notes adding grit to her startling technical proficiency.
The Duhks' music has bluegrass and other vernacular musical roots but carries an attitude and excitement that might require a genre all to itself: gospel grungegrass. Podolak calls it Jewgrass and there was a mighty klezmer presence here and there as well as God-fearin' hollerin' from Podolak's fellow founder member, Jessee Havey.
Colin Savoie-Levac's bass boost-enhanced 'acoustic' guitar playing creates quite an electric storm, pelted along by the formidable Kevin Garcia's hand percussion, kick drum and cymbal splashes but a particular highlight of a thoroughly enjoyable set was the natural energy and sheer musicality that Podolak generated in a hamboning (super-coordinated thigh slapping) session with the band's dancer.
From The Herald, January 18, 2016
Front Country, Carnegie Hall, Dunfermline
Front Country arrived for their first UK tour with a reputation as the hottest act on America's bluegrass circuit. The Californians certainly have the instrumental chops to back this up. In Melody Walker they also have a singer who can deliver the required gospel element and guitarist Jacob Groopman adds further vocal credibility with his take on songs such as Ola Belle Reed's old-time gospel classic I've Endured.
Their music occupies a hinterland that extends much further than bluegrass, however, reaching into a beyond that at times makes them the missing link between Punch Brothers and the Penguin Café Orchestra and even extends to the prog rock of Family and King Crimson. Your reviewer was still wondering how a quintet of young bluegrass pickers might possibly have been influenced by the former's A Song for Me in their splendidly riffing arrangement of Gospel Train when, lo and behold, they produced a brilliantly interlocking string band version of King Crimson's Three of a Perfect Pair, sung with all the conviction that Adrian Belew brought to it but with more folk and church music flavours.
If mandolinist Adam Roszkiewicz's The Humpback and the Sloth also had a certain British Isles quality in its echoes of Simon Jeffes' Music for a Found Harmonium, songs such as Kathy Kallick's Kissin' Comes Easy, with Walker at her bluesiest, Dave Olney's witheringly acerbic Millionaire and their own Undertaker reaffirmed their immersion in American vernacular music. They can stretch out effectively, too, with fiddler Leif Karlstrom following Groopman's extended solo on the final song with sustained improvising zest and invention. Impressive stuff boosted by the promise of much more to follow.
From The Herald, November 13, 2015
Bruce Cockburn, St Andrew's in the Square, Glasgow
Glasgow Americana 2015's train made its first stop in Canada with the now seventy years old Bruce Cockburn. I mention his age because, while Cockburn has the air of a bespectacled senior professor, he has the fingers and musical spirit of a much younger, if experienced guitar man. In a snapshot of his art you'd find a mixture of erudition and six- and twelve-string locomotion that, against all the odds, makes a line such as "thousand-year-old petroglyphs doing a double take" rock.
Cockburn hasn't added many songs to his canon in recent years because his writing time has been taken up by a "spiritual memoir" (no, he didn't know what his publishers meant either) but the one new item he shared, Jesus Train, continued very much in the above style with a superb guitar accompaniment that suggested a Hammond organ and soul-jazz tenor sax combo rather than a twelve string acoustic at work.
The shortage of new material wasn't a problem for the audience as fans want to hear their favourites and Cockburn's performing style, especially on guitar, can refresh the familiar, although he did seem to slip off the pace a bit towards the interval, introducing wind effects and a slight ponderousness compared to a near unimpeachable opening sequence that included the suitably chugging Night Train, a hypnotic Mango and the sinister Lovers in a Dangerous Time.
His second half, a momentary late slip on guitar aside, was a masterly clear run, though, with his voice carrying authority and the audience's participation in Wondering Where the Lions Are re-emphasising Cockburn's ability to make serious environmental and political statements entirely singable.
From The Herald, October 9, 2015.
Corn Potato String Band, Traverse Theatre, Edinburgh
The terms "instrument swapping" and "communal guitar" take on new meaning when the Corn Potato String Band come to town. Even their name threatens to change, into Corn Potato Swing Band, as Aaron Jonah Lewis, Lindsay McCaw and Ben Belcher delve into the history of American roots music and share their varyingly honest, homespun and virtuosic findings from the tune that was Abraham Lincoln's favourite through the New Mexican wave, ragtime, Hank and Slim to their own Route 77, a rare original in two dedicatedly researched and lovingly delivered sets.
Lewis and Belcher have form going back some way in these parts, being participants in the madly brilliant, Flatt & Scruggs to Frank Zappa team that was Special Ed & the Shortbus, the Herald Angel winners who thought better of that politically dodgy moniker and mutated into the Hot Seats. There's no Zappa in the current trio, save for Lewis's zany humour, but the tightness of arrangements that marked out Special Ed is very much at play as two fiddles and guitar tear up a polka, two banjos and guitar combine to create a kind of player piano effect, three voices blend in emotional longing, and three fiddles converse with rustic fidelity.
In among all that there was heartfelt and harmonious yodelling, rhythmically swinging and musically propellant square dancing from McCaw and a Russian Rag where fiddles and banjo brought both flavours suggested in the title together into something resembling Cossack bluegrass. A fun and enriching evening that even had something for the twitchers in the audience in the shape of the generously bearded Lewis' compendious and mirthful birdsong impersonations – on fiddle.
From The Herald, September 30, 2015.
Betty and the Boy, Eastgate Theatre, Peebles
When Bettreena Jaeger announced during the second half that one of the first engagements Betty and the Boy will be fulfilling when they get back to Oregon is a collaboration with a ballet company, I'd lay good odds that not an eyelid batted among the audience. There's a graceful, waltzing quality to much of the quintet's music that would be ready-made for dancing beyond the kind that's normally associated with bluegrass and old-time groups.
But then, bluegrass is just the handiest handle to put on Betty and the Boy. There's certainly something of the Appalachians in what they do and mandolin, banjo, guitar and double bass, which feature prominently, are all associated with that genre. The violin and cello that complement these instruments take the carefully honed and toned accompaniments closer to a kind of rustic chamber music, though, and help to spotlight Jaeger's singing in a voice that's totally beguiling and almost child-like in its determinedly clear enunciation.
Jaeger's voice dances, too. Indeed, on a left-field version of Melanie's Brand New Key, a rare cover among original songs that often adopt an attractively dark hue, she almost seemed to be roller-skating through the melody, in keeping with the song's roller-skating allegory, and if she didn't quite pull-off its intricacy to perfection, it was still quietly thrilling in its own way.
Her partner domestically and musically, Josh Harvey (aka The Boy), sings in a grainier tone and the two voices blend beautifully, sharing musical tales of Jaeger's father's draft-dodging adventures in Sweden and even dedications to their pet parakeet with an old-time charm that's natural and as appealingly down-home as apple pie.
From The Herald, September 28, 2015.
If Chris Young hadn't become one of the new young stars of country music he would surely have made it in sales. The Tennessean singer with the very manly voice comes across as the very essence of America's service culture. You almost expect him to ask the front row if they'd like some French fries with those drinks.
There's a school of thought that says country music has strayed a bit too far into pop and arena rock over the past twenty years and Young's songs and particularly his superbly confident band's arrangements might easily appeal to those markets. For all his smooth talking and the punchy southern rock of covers such as ZZ Top's Sharp Dressed Man, however, Young is as country as cowdung.
When he slips into Conway Twitty's I'd Love to Lay You Down it's easy to imagine the fourteen-year-old Young, as he mentions later, getting up to sing a George Strait song in a bar back home and doubtless bringing the house down. Those singers are in him and his solo, voice and acoustic guitar version of his own Drinkin' Me Lonely suggested that an evening of Young unplugged and alone would be a fine way to hear that voice at length.
His fans on this sold-out first appearance in Scotland sounded like they'd be as up for that as they were for the powerful new single, I'm Comin' Over, the mischievously rawkin' Save Water, Drink Beer, the bouncy Aw Naw, and the lascivious Getting' You Home, where a black dress hits the floor and it hasn't fallen from the kitchen pulley. Next time they might need a bigger venue.
From The Herald, September 18, 2015.
Crosby, Stills & Nash, Glasgow Royal Concert Hall
In David Crosby's assessment, the band members' contributions are: Stephen Stills writes great rock songs; Graham Nash writes anthems that the world wants to sing; and Crosby writes "the weird shit". There's a bit more than this to their respective outputs and certainly after this latest instalment of the CS&N story, we need to acknowledge Crosby's creations as "the gloriously weird shit".
CS&N 2015 has nothing to do with old rock codgers sallying forth to top up their pensions. Far from it. They have a reputation to uphold and - now all in their seventies - they're not just maintaining it, they're enhancing it, Crosby, who was in magnificent form, especially. The voices may not be quite as lithe, the harmonies not quite as lush as they once were, but the magic these three very distinctive vocal timbres create when they coalesce can still thrill big time.
Much of the music here was drawn from their first two, classic albums and if it sounded reassuringly familiar, with the help of a truly superb five-piece band it also shone with crisp, current arrangements and great presence. Crosby's Long Time Gone, with its dynamic, staccato instruction to speak out, was one instance. Nash's cosy but fresh Our House was another and Crosby's mini rock opera, Déjà Vu, complete with changing tempi, tumbling vocal lines and concise band solos, proved a captivating, masterly epic.
New songs from all three showed they're still producing high end goods to Crosby's aforementioned specifications and Stills' wonderful, soulful soaring on Suite: Judy Blue Eyes proved that even on the encores, these troupers are giving it everything they have.
From The Herald, September 17, 2015.
Music, Hayes Carll, Voodoo Rooms, Edinburgh
Hayes Carll does a nice line in entertainingly quirky vulnerability. On a previous visit to Edinburgh the Texan singer-songwriter was singing about the girl who, according to misguided evidence, had left him for Jesus. This time he was the put upon dad whose baby took his baby away, with similarly mirthful results as he catalogues the impact his son made on home life.
Elsewhere Carll was playing the proud parent in a song co-written with the great Darrell Scott, son Elijah having become, at ten, a magician with paid engagements apparently in his diary.
It says much about Carll's range that he can switch easily from cosy domesticity and throw-away humour to the kind of hard-edged commentary that, with the help of Travis Linville, on slide guitar and Telecaster, and Mike Meadows, on a minimal drum set, will rock out the toughest honky tonk. This, though, is the result of writing and singing with careworn believability about real life occurrences, be they police corruption or winning a gun in a raffle.
Carll's raffle prize is the subject of one of many between-song revelations and drolleries for now but I wouldn't bet against it finding its way into a lyric just as the possible fine-reducing effect of carrying a Bible on the dashboard in certain states has in a song that would have been a perfect fit for Johnny Cash's prison gigs.
Cash might also have enjoyed Kmag Yoyo, a Subterranean Homesick Blues-style tale of reluctant army service in Afghanistan, on which Linville's guitar picking eloquently intercepted the baton of Carll's quickfire wordsmithery and set off on a goosebump-making dash for the line.
From The Herald, September 8, 2015
Groanbox, Groanbox (Groanbox)
Originally a duo who first seduced Scottish audiences with rugged, bluesy roots music interlaced with the kind of accordion virtuosity that you might expect from someone who had Carnegie Hall, New York commissions on his C.V., the now four-piece Groanbox celebrate the group's tenth anniversary with a sixth album that belies its start-from-scratch, DIY, lakeside retreat origins through passages of pop sophistication that call to mind 10CC's heyday.
Their rootsy fascinations still show, chiefly with the African patterns that inform several of the tracks, but there are also suggestions at times of Pat Metheny communing with exotic fauna (or perhaps even with Mike Oldfield or Terry Riley) and Dan Hicks and His Hot Licks-style lounge lizardry on the mischievously catchy, calypso-esque vocal, The Face That You Deserve.
Other flavours such as New Orleans piano grooves and horns, Erik Satie meets industrial percussion and Eastern European gypsy music waft in and out of an album that somehow pulls these many diverse influences into an ultimately quite charming whole.
From The Sunday Herald, August 9, 2015.
It seems that the Lovell sisters have their tiffs. Now there's a surprise. There's long been a chemistry in these two siblings' musical partnership that suggests that zestiness doesn't come without feistiness and Stubborn Love's introduction, four songs into a set that had plenty of both those ingredients, confirms that sisterly affection can sometimes be strained.
This may even be a driving factor as Larkin Poe, the band that singer-guitarist Rebecca and slide guitar marvel Megan front, moves deeper into a rockin' groove and its bluegrass roots, though still audible, retreat further in the rear-view mirror.
With last year's Kin album, the sisters were accused of following a slick, radio friendly path but in person the songs that attracted such comment, including Jailbreak and Don't, have real edge. As she's developed in the kind of confidence that being hired by Elvis Costello and T-Bone Burnett must bring, Rebecca has become an assured and yes, feisty, rock chick with a big voice and a huge range of expression.
Her singing of gospel standard Hey Sinner, reworked with a kind of marching, venomous groove and seguing into a tough-as-tough-gets take on Lead Belly's Black Betty, was thrillingly censorious yet celebratory and contrasted markedly with the quiet, introspective and affecting Overachiever.
Megan's slide work is the glue that links the songs with an undemonstrative but emphatic rhythm section, providing hooks, atmosphere and moments when you might think another couple of players are lurking unseen. Still in their mid-twenties, the Lovells remain quite a prospect, if one that definitely knows how to rouse a crowd and as Megan wades, guitar wailing into that crowd, how to put on a show.
From The Herald, July 10, 2015.
Slaid Cleaves, Pleasance Cabaret Bar, Edinburgh
Slaid Cleaves heeded his mentor, Don Walser's advice well. As a singer-songwriter-guitarist newly arrived in Austin, Texas from Maine, Cleaves befriended the man once dubbed "the Pavarotti of the plains" whose assessment was that Cleaves couldn't half make folks cry but he should make them smile, too. Cleaves did all that and more on this latest visit.
Yet another of the late Glasgow promoter Billy Kelly's discoveries, Cleaves has built a loyal following in these parts, as this near-capacity gig confirmed, for his literate, character-filled storytelling style of songwriting. He's long had a great ear for a tale, such as the one gleaned half-way through a beer with the hero of old favourite Horses and Divorces and that's continued into newer songs. Still Fighting the War, the title track of his most recent album, is an all too real, if sympathetically handled, observation of post-traumatic stress.
Cleaves is a generous performer, giving his accompanist, Scrappy Jud Newcomb plenty opportunities to display his spontaneous, and ever-apposite blues, country and western swing guitar chops and lending his clear, lightly weathered voice to songs by fellow songwriters who haven't had the exposure that he's enjoyed. Karen Poston's haunted Lydia and Steve Brooks' witty, wordy Everette were interpreted superbly and the aforementioned Walser's Rolling Stone from Texas featured Cleaves' impressive yodelling talents.
Tributes to fellow Austin resident Ian McLagan and Texas itself, in Cleaves' own exuberantly rhyming Texas Love Song, were other standouts over two sets of sustained high standards that were matched and more by Cleaves and Newcomb strolling through the audience singing and picking the marvellously persuasive, gospel-style encore, Go for the Gold.
From The Herald, June 8, 2015.
Chuck Prophet & the Mission Express, Voodoo Rooms, Edinburgh
Chuck Prophet makes a public health announcement before his departing song, You Did. Anyone who has a heart condition, anyone of a nervous disposition should leave now as the San Franciscan is about to lay something so heavy on the audience that it might prove fatal.
Readers familiar with You Did will know what's coming: "Who put the bomp in the bomp shooby dooby bomp?" may not be poetry at Shakespearean sonnets level (and it borrows from Barry Mann and Gerry Goffin) but its call and response with the song's title is the sort of line that's likely still to be with you the morning after a Prophet gig.
With such a talent for hooks, and there were many scattered throughout the set, Prophet really should be a bigger name. You Did is almost throwaway fun, although the audience response would surely impress any marketing manager, and there's more to Prophet than kidding around. He's a serious student of popular music who's absorbed the whole shebang - cars and girls, the Stones and Bowie, Buddy Holly and Chuck Berry et al – and fashioned his own strain of superbly crafted, directly communicated, often highly articulate rock.
Comparisons with Bruce Springsteen are not remiss. The current Mission Express has early E Street Band-style tightness, solid groovability and dynamic variety. Prophet's way with melodic and lyrical hooks extends to instantly appealing slide guitar, if not gruff tenor sax, refrains and there's an epic quality to songs like Summertime Thing, which began with Prophet on acoustic and developed into duelling electric guitar heroism. Who put the bomp? He (Prophet) did.
From The Herald, June 8, 2015.
Hot Seats/Railsplitters, Traverse Theatre, Edinburgh
A veritable bluegrass big band signed off this latest instalment of Soundhouse's Music Mondays at the Traverse as Virginia's Hot Seats invited the Railsplitters from Colorado onstage for a hootenanny that found the latter's Lauren Stovall leading off a rollicking Rolling in My Sweet Baby's Arms energised by relays of fizzin' fiddle, mandolin, banjo and guitar breaks that, had they been bottled, might have fuelled their respective tour buses.
The Railsplitters are the junior members of this enterprise, having formed just three years ago, and although they're not quite the finished article as a live proposition, they have mighty instrumental flair, not least in Dusty Rider's liquid banjo picking and Peter Sharpe's superbly inventive, percussive mandolin style, and all-round-one-mic singing charm. Although they're clearly at home in the bluegrass style, this is just the starting point for adventures that embody funk and Latin American rhythms while songs such as Tilt-a-Whirl, My World and Planted on the Ground show writing and arranging skills that draw on both old school and more sophisticated pop lessons.
Hitting their stride immediately with Jawbone's raw energy, the Hot Seats went on to remind your reviewer why they won, in their previous incarnation as Special Ed & the Short Bus, a Herald Angel award. They're rambunctious but tight with a hard-driving hoedown sensibility that draws on old-time traditions but, as songs such as I Wouldn't Take Her to a Dogfight illustrate, doesn't let reverence stand in the way of a good time. As skilful, with fiddle, banjo, mandolin, guitar, a communal double bass and a washboard-drum kit rhythmic clatter, as they are witty, they're hot alright. And irresistible.
From The Herald, June 3, 2015.
Danny Schmidt, Owls (Live Once)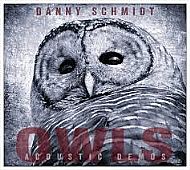 As anyone who has caught him live will confirm, Danny Schmidt is a self-contained Texan troubadour. His guitar is a six-string orchestra-cum-dance band accompanying a voice that carries vulnerability, a sense of wonder and firm determination. Seven albums into his career, however, he really should be reaching a wider audience and Owls, which was conceived as a band album, might just be the vehicle to take him there. Like the writers he reveres – Dylan and Cohen are two – Schmidt is a poet. In Cry on the Flowers' ill-starred heroine he sees "a beauty so composed the notes might cry" but his words can hit hard, too (The Guns & the Crazy Ones disdains gun crimes and school shootings) and the loose-limbed, bar band rhythms, weeping slide and grungy guitars of his session confreres add just the right weight and atmosphere to his brilliantly sustained descriptions and poetic allegories while his partner, Carrie Elkin is one of a trio of backing vocalists aptly complementing Schmidt's lived-in, heartfelt singing.
From The Sunday Herald, May 31, 2015.
Foghorn Stringband, Traverse Theatre, Edinburgh
Time was, if this gig had taken place in a television studio, there would have been a few bales of hay strategically placed in an attempt to emphasise the authenticity of what was being presented. No such props were required here, however, because the music from both Oregon-Yukon quartet Foghorn Stringband and their friends and opening act, Virginian singing partnership Anna & Elizabeth, was the full-strength, living and breathing American tradition, delivered with passion, honesty and in Foghorn's case unstoppable locomotion.
Anna & Elizabeth may talk of researching songs in dull library rooms but their association with tradition bearers including the octogenarian Alice Gerrard has added character and soul to their singing, picking and dancing. Their "cranky", a kind of moving tapestry and more an extra instrument than a prop, helped to illustrate songs and stories but the narratives, in various shades of dark and light, were clear from their wonderfully dovetailing, rustic voices alone.
Foghorn Stringband boast wonderfully dovetailing voices, too, and in various permutations from which it would be impossible to select a favourite. Caleb Klauder leading off the plaintive Down in the Willow Gardens? Bassist Nadine Landry retailing Patsy Cline's wary and then some Turn the Cards Slowly? Landry and guitarist Reeb Williams singing a cappella? It's all beyond good and with an instrumental powerhouse that has Landry pumping bass clef blood into Williams' unfailingly true rhythm playing while Klauder's mandolin and Sammy Lind's fiddle sprint, sing and slide as one, there's a toughness and energy as well as precision that together make an exhilarating, superbly satisfying and yet still more-ish whole that's greater than the considerable sum of its parts.
From The Herald, May 20, 2015.
Sarah MacDougall, Woodend Bowling and Tennis Club, Glasgow
Grandmas are recurring theme at the moment with the singer-songwriters who stop over in Glasgow for the admirable Sounds in the Suburbs' small-scale promotions. On Friday past at Arlington Baths, the Vermont-based South Dakotan Rachel Ries was singing her ultra-resourceful grandmother's praises and here, back on the Jordanhill promoter's home turf, Swedish-Canadian Sarah MacDougall led the packed audience on a chorus dedicated to hers.
MacDougall likes to involve her audience. They can be asked to join in on conventional singalongs, as above, or add clapping impetus to her rockin' in rhythm fingerpicked guitar locomotion. Or – and they didn't need much encouragement on this one – she can ask them to cry like wolves. This was brave of MacDougall since the previous song had resulted from her being stranded in a forest cabin where she could only use the outhouse during daylight hours due to the presence, she was convinced, of threatening fauna.
She comes across as a generally cheerful soul, singing and playing with enthusiastic gusto, and while her guitar didn't seem to have quite recovered from the long journeying that brought her from the Yukon for this first gig of a European tour, leading to uneven pitching in places, she delivered two bright, largely optimistic sets. Her subject matter roams freely from her early hero, the playfully superhuman Pippi Longstocking to occasionally darker elements such as organised religion's attitudes to gay people and the creeping effects of far-right politics. She even sang a song in Swedish and overrode any language barrier with her percussive guitar playing driving an impassioned vocal that got the message across phonetically with force of personality.
From The Herald, April 21, 2015.
Rachel Ries, Arlington Baths, Glasgow
There was talk among the musicians themselves of them forming a band. A collective encore alone might have been interesting because here we had three performers with strong personalities and voices to match: Zoe Graham, the young local talent who can bring almost rock band attack as well as swing/blues subtlety to her guitar-accompanied songs; Jenn Grant, a Canadian and the winner of her country's Grammy equivalent, whose songs and voice beguile with a gentleness that can also soar; and Rachel Ries, who would have them all come back to Arlington Baths and play a concert in the upstairs games room using the snooker table as the stage.
We can only wish her good luck with that idea. In the meantime, there's as much to admire in Ries's musical armoury as there is sympathy to be felt with her inability to find anyone, even in the U.S., who has visited her home state, South Dakota. She wears her disappointment in this as lightly as she delivers her story-songs, her introductions to them having a near-musical quality of their own that in the best instances can make it hard to tell where the intro ends and the poetry begins.
Her voice is a soft instrument but with a toughness that lets lines curl off upwards as if with a life of their own and as she sang the trumpet solo from one of her records, it wasn't too much of a leap to imagine her working with a jazz band instead of just the guitar that also picked out a particular highlight in her bluesy offer to a night-time caller that she'd leave the kitchen light on.
From The Herald, April 19, 2015.
Lindsay Lou & the Flatbellys, Ionia (Lindsayloumusic)

Michigan string band Lindsay Lou & the Flatbellys recorded this latest album in the dining room, rather than the cellar, of their house in Ionia but it has not a little of Bob Dylan and the Band's Basement Tapes' holed up in the Big Pink club room quality. Standing grouped around a few vintage microphones, they've captured a tight rootsiness that speaks of dedicated immersion in American vernacular music and bodes well for their imminent first trip to Scotland. The highly versatile Lindsay Lou is the vocal focal point on all but a few tracks – dobro player Mark Lavengood sings lead on the funky Sometimes and the title track is an atmospheric, banjo-led instrumental – and she reveals herself as a natural frontwoman, be it on the sultry Hot Hands, the raucous House Together, the irreverent Criminal Style or the bluesy Smooth and Groovy. The playing is exemplary, with guitars, dobro and bass achieving the engine-with-a-heart locomotion of a bluegrass Little Feat at times.
From The Sunday Herald, March 29, 2015.
Ryan Adams, Usher Hall, Edinburgh
There's as much point in barracking Ryan Adams as there is in heckling Tom Waits. There's only going to be one winner. The bloke who told Adams to get on with it got his answer. With interest. And then some. Requests are likely to be met with impromptu songs built round a misheard shout and proclamations of love will be twisted into skits about Adams looking like a lion or some such.
The wayward but masterly Adams hardly needs encouraged to get a move on. He and his duck's bum-tight band were about six songs into the set before he paused to make an announcement. It was a rogue one, as it turned out. The music, however, was all honesty. Adams' songs, singing and playing, down to his occasional harmonica solos, all seem to come from a deeper place, somewhere that doubles as church house and road house, a feature underlined by the Hammond organ's warm, spiritual-cum-sexy presence and an upright piano's Sunday school-cum-bordello jangle.
It's music from an old school, or at least a previous generation, with a rootsy yodel underlining Adams's country credentials and the soul balladry of I Love You But I Don't Know What to Say joining the dots between, say, Paul Simon and Sam Cooke. And yet it clearly connects with the here and now. Everything is superbly crafted, every song lives in its own meticulously drawn atmosphere and with details such as the guitar phrases that oil the supercatchy Let it Ride and judiciously used pause and explode dynamics, it's easy to hear why a producer-musician such as Ethan Johns should call on Adams' production-arrangement skills.
From The Herald, February 26, 2015.
Top
Punch Brothers, Glasgow Royal Concert Hall
Are Punch Brothers the best band on the planet? They would surely have to be contenders. They're certainly among the most pliable, able to change the shape and style of their music seemingly endlessly and in a heartbeat.
Within a ten minute period during this superlative demonstration of individual and collective musicianship, you might have heard the most sophisticated of vocal harmonies and instrumental arrangements, tempo shifts reminiscent of Stravinsky, a section from a Debussy suite, and melodic hooks that any pop songwriter would covet, and yet you're never far away from a reminder that this, were its components of such a mind, could be a straightforward, if ridiculously accomplished, bluegrass band.
As the unscheduled, PA-less opening "fiddle tune" and a later five-guys-round-one-vocal-mic episode exemplified, mandolin genius Chris Thile and his fiddle, banjo, guitar and double bass colleagues are as at ease rattling through a bluegrass breakdown or providing an a cappella Clancy Brothers-style reading of The Auld Triangle (one of their contributions to the Coen Brothers' Inside Llewyn Davis movie) as they are creating the Beach Boys-and-beyond brilliance that is Familiarity, one of several items played here from their new album, The Phosphorescent Blues.
Another of the new songs, I Blew it Off found fiddler Gabe Witcher playing judicious drums, a recent addition to the band's palette, and more established numbers Movement and Location, with its irresistible, banjo-driven momentum and downright catchy tune, and the slightly Kurt Weill-like, nightmare-ish Another New World, emphasised the quintet's telepathic togetherness and their ability to make stopping as one on a sixpence somehow just as exhilarating as their hairpin bend, heart-in-mouth improvisations.
From The Herald, January 26, 2015.