Maeve Mackinnon, Stri (own label)
One of two Gaelic singers who share the same name, this Maeve Mackinnon is the Glasgow-born one who is steadily establishing herself as a singer of real character with a liking for surrounding herself with arrangements that reflect current times and sounds while keeping a firm connection to the tradition.
Stri means to strive or struggle and many of the songs here are drawn from the waulking songs sung by hardy Highland and Island women during long shifts at the tweed tables. Mackinnon delivers them with a quiet force that's darkly expressive while producer Duncan Lyall's arrangements for strings and electronica, supplemented by superb uilleann piping from Jarlath Henderson and whistle playing from Ali Hutton in a band sensitively driven by drummer Alyn Cosker, lend atmosphere and groove.
The one song sung in English, We're Not Staying features former Chilean president Salvador Allende's final broadcast setting the scene for a defiant chorus that chimes with the work songs from this side of the world, giving a sense of unity before Mackinnon's gorgeous interpretation of Mo Cheist Am Fear Bàn, with Patsy Reid's soul-stirring fiddle, ends the album on a note of utter, very affecting bereftness.
From The Herald, March 17, 2018.
Adam Sutherland, Some Other Land (Errogie)
Fiddler Adam Sutherland not only composes in his sleep, as the cover art for this, his second album suggests. He also writes tunes in his own image.
The gallus, cheeky Dusk on Loch Ness that brings the album to a celebratory conclusion has Sutherland's name running through it like seaside rock has "Blackpool" and there's a similarly personal quality about the opening track, The Wizard, where following a band introduction, Sutherland is left alone and exposed as if playing the melody in a bothy or maybe just in his bedroom having woken up with the notes forming in his head.
Sutherland won the Composer of the Year title at the 2017 MG Alba Scots Trad Music Awards and Some Other Land celebrates his love of melody. It also demonstrates his ability to develop ideas and to work with empathetic musicians in realising them in a variety of ways.
Somhairle Dubh dances on a rhythmical bed that a prog rock band might covet. The Broken Man and the Banker has some Memphis soul in its grooving DNA and The Lada has cousins in the Balkans, although ultimately the dominant accent is Sutherland's own very strong Scottish one.
From The Herald, February 17, 2018.
Duncan Chisholm & Tanxugeiras, Glasgow Royal Concert Hall
There was a neat tie-in between this final concert of the 25th Celtic Connections and the festival's first-ever concert back in 1994. Not only did fiddler Duncan Chisholm appear in that initial gig, with folk-rockers Wolfstone, but Galician piper and percussionist Manuel Amigo, here accompanying the young female vocal trio Tanxugeiras, was with the opening act, Dhais, that night.
The joyful Tanxugeiras continue the Galician tradition of creating intricate, dancing rhythms on tambourine and frame drums to drive their exuberant ululations and they provided a superb opening set, aided by accordion and Amigo's creative use of a pair of shells as well as his gaita (Galician pipes).
Duncan Chisholm's music is more restrained by nature, although when he and his mini orchestra fired up a set of reels, there was plenty of energy in the room. The main business here was the live premiere of material from Chisholm's new album, Sandwood, a collection of tunes that capture the fiddler's fascination for Sandwood Bay in Sutherland.
Chisholm is a master at reflecting landscapes and geographical features in compositions, both original and borrowed, and his fiddle playing, melodically true with an almost tangible Highland soulfulness, conveys not only a sense of topography but the emotions these places stir in him.
His playing of Donald Shaw's A Precious Place was particularly gorgeous and with arrangements that incorporated string trio, uilleann pipes and whistle, acoustic and electric guitars, keyboard and piano, and percussion with finely applied weight, he delivered richly detailed, beautiful images for the mind's eye. I can't help thinking that there's potential here for a Chisholm celebration by the Grit Orchestra.
From The Herald, February 7, 2018.
Bothy Culture & Beyond, The SSE Hydro, Glasgow
Follow that, as they say. One man, the late Martyn Bennett, created Bothy Culture, an album that gathered together Scottish and Islamic elements in a natural and celebratory musical alliance. So when his friend Greg Lawson reimagines Bennett's music for his bespoke, nearly 100-strong Grit Orchestra, comprising traditional, classic and jazz musicians, the effect can be like standing in the actual landscape famously captured by a master in oils.
If this was the case when Lawson presented Grit, Bennett's final masterpiece, at Celtic Connections in 2015, then it was even more so here as a model of the Cuillin formed the backdrop to the orchestra and their guest aerial ballet corps and stunt cyclist Danny MacAskill. Actually, bike ballet might serve as a better description of MacAskill's contribution as he matched his hit YouTube film by arriving in a rowing boat and performing somersaults, onstage mountain climbing and graceful front and back wheel dare-devilry.
At the heart of the pageant was the music, however, a glorious procession of bagpipe glissandi, parping brass, addictive fiddle figures, heavy duty cello riffs, gongs dipped in buckets of water, and brushes stroking the sounds of waves from snare drums. Lawson, who transcribed the album, has an ear for meticulous detail and his orchestrations brilliantly capture the sighing violin chords of quiet, soulful reflection as well as the intense emotional swell of Bennett's powerful, dance-driven forward motion.
David Hayman's reading of Sorley MacLean's Hallaig brought gravitas and further craggy atmosphere and there was humour, too, as Innes Watson, forsaking his normal guitar and fiddle, gave Bennett-like voice to the one-sided phone call on Aye and led the communal diddle on Yer Man from Athlone.
A huge audience in a huge arena underlined the sense of occasion and nobody would have objected to the album running order going off-script with the arrival of Fiona Hunter to sing Blackbird from Grit, the magnificent soundtrack to MacAskill's entrance and a reminder that beyond Bothy Culture lay even more magic from Bennett in a career that was cruelly cut short.
From The Times, January 29, 2018
Òrain nan Gàidheal: Songs of the Gael, Glasgow Royal Concert Hall
Celtic Connections director Donald Shaw has achieved two long-standing ambitions relating to Gaelic song at this year's festival. At the beginning of the week, at Shaw's suggestion, the South Uist-born singer Kathleen MacInnes joined saxophonist Tommy Smith and pianist Brian Kellock in a spontaneously arranged and conspicuously successful, if brief, merging of Gaelic tradition with jazz harmonies and improvisation.
MacInnes's gorgeous voice, with its suggestions of peat smoke and a malty tang, featured again in this extensive celebration of the Gaelic song repertoire in the equally unusual company of the BBC Scottish Symphony Orchestra, augmented for the occasion by traditional instruments including the uilleann pipes and a keening fiddle.
The fear might have been that these songs, some dating back centuries, others much more recent, would be smothered with saccharine arrangements or overpowered by orchestration but a light touch and a shrewd awareness of form and singer dispelled such thoughts. The strong tones of Robert Robertson, currently gaining attention with the young band Tide Lines, and the superb Gillebride MacMillan, now better known as the bard in popular TV series Outlander, were allowed to smoulder on tales of longing while Karen Matheson's sure-footed waulking song that told of female bards in a fatal war of words was buoyed and driven with empathic orchestral momentum.
Despite the concert hall setting there was no standing on ceremony. Indeed, a feeling of informality, engendered by television presenter Kirsteen MacDonald's mischievously informative introductions and one or two mistimed arrivals, added to the evening's success. Even when Isobel Ann Martin, a Royal National Mod Traditional Gold Medallist, was overcome by the occasion the audience response was understanding, warm and heartfelt.
At the end all the singers, including the multi-award-winning Julie Fowlis, the rapidly maturing Mischa MacPherson, the apparently unaffected by time Mackenzie Sisters from Lewis and the tireless Gaelic advocate Arthur Cormack, gathered onstage for a spirited rendition of the popular waulking song Hèman Dubh before orchestra and audience were commandeered into a community choir for the work song turned anthem Sìne Bhàn.
From The Times, January 29, 2018
Keenan, Gavin & Byrne and Lahira, City Halls, Glasgow
It was, as Frankie Gavin pointed out, the trio's first gig together. Quite a coup for Celtic Connections, given uilleann piper Paddy Keenan, fiddler Gavin and accordionist Dermot Byrne's status in the Irish music firmament. And it might have been their last.
Well, not really, Keenan's return to the dressing room in a mock huff when Gavin told him he would recognise, but not know [how to play] the first tune of the encore was followed by a typically blistering trio finale.
The offending tune hardly fitted into the 'old Irish tunes that are now neglected' script the trio follows, being a choro, Tico Tico, but Gavin and Byrne played it with brio and I wouldn't bet against Keenan having learned it by now and being able to add the outrageous ornamentations that come as standard when he plays.
Both he and Gavin, known respectively for their time with the Bothy Band and De Dannan, are notorious speed merchants, and there were elements of 'who's following whom' as reels flew, yet the contours of the melodies are always honoured. When, with Byrne adding brilliant feints and harmonies, they hit the golden seam on, appropriately, The Yellow Tinker, they were beyond exhilarating. For contrast, Keenan added The Snows They Melt the Soonest on low whistle and while he might not have remembered its full name, he gave this lovely air his full expressive attention.
Earlier, Gaelic-Indian quintet Lahira found fruitful common ground between two traditions, with Anne Martin singing clearly and emotionally and her musicians creating superb tension and release, especially on a heightened violin, tablas and beatboxing exchange.
From The Herald, January 26, 2018
Celtic Connections 25th Anniversary Concert, Glasgow Royal Concert Hall
Twenty-five years ago, almost to the night, a troupe of Irish-American musicians and step-dancers arrived on the Glasgow Royal Concert Hall stage as unknowns and departed with a reputation that would make Cherish the Ladies one of Glasgow's favourite bands and Celtic Connections regulars.
Not too much has changed since that first visit. The musicians, playing reels with classy assurance, now come as much from this side of the Atlantic. Their leader, Bronx-born whistle maestra Joanie Madden, however, remains ebullience personified and although the dance element was reduced to a single male it was jaw-droppingly virtuosic.
Cherish the Ladies' runaway local success has become emblematic of Celtic Connections itself, or at least one facet of the festival. An event that's grown into one of the world's greatest roots music gatherings, it began as something to light up the dark January nights – and fill a venue's empty schedule - and quickly became a party where friendships were formed onstage and off and musicians were encouraged to become as ambitious as the festival.
The scale and content of this opening night extravaganza underlined that ambition. Bands that were formed specifically to appear at Celtic Connections, such as the transatlantic fiddle convention String Sisters, returned as international touring acts, in this case highlighting their Nordic tendencies with the superbly orchestrated carousal, Late Night in Førde.
By contrast, elsewhere, Celtic Connections' more sobering engagement with global events was illustrated by the cast of the World War 1 commemoration Far, Far From Ypres saluting the terrible numbers of fallen in that conflict and by the more recent, personal reflections of Syrian Maya Youssef, articulated through the percussively singing strings of her zither-like qanun and her newly-forged partnership with Emma Härdelin and Mairéad Ní Mhaonaigh's lovely voices.
An evening that began with the Highland pipes playing a Gaelic air honoured those traditions with two further highlights, the piping ensemble Tryst with their magnificent harmonies and young Hebridean singing group Sian, who showed the promise to be headliners when Celtic Connections' next significant anniversary rolls around.
From The Times, January 20, 2018
Pete Clark & Muriel Johnstone, Niel Gow's Fiddle (Inver)
The eighteenth century Perthshire fiddler and composer Niel Gow can have had no bigger champion in modern times than Pete Clark. A Fifer who years ago settled not far from Gow's home in Inver, near Dunkeld, Clark has devoted albums to Gow's music, leads an ensemble named after him and for the past fifteen years has directed an annual festival in Gow's honour.
Here he plays a fiddle that genuinely once belonged to his hero and if it's not too fanciful to say this, these recordings are probably as close as we're likely to get to being in the great man's presence. Clark has completely immersed himself in the tunes of Gow and his son Nathaniel and he and pianist Muriel Johnstone allow the melodies to speak for themselves to the extent that while listening to Clark, you can get a real sense of the personalities that inspired these strathspeys, reels and heartfelt laments.
As solo examples such as Watson's Class emphasise, Clark's playing can stand alone, with both rhythmical momentum and attention to melodic detail, but the balance and understanding in the duo tracks conspire to present a beautifully rounded programme.
From The Herald, December 9, 2017.
Peatbog Faeries, Live @ 25 (Peatbog Records)
The Peatbog Faeries celebrate their 25th anniversary by showcasing what they've become experts at over these years, dragging people physically onto dance floors and out of festival bars to get swept up in the grooving, reeling, piping, whistling maelstrom of an exuberant band at full tilt.
And just as their live performances make a party pooper out of anyone who prefers to stay on the sidelines, the quality and energy of these recordings, taken from gigs in Herefordshire and closer to the Peatbog Faeries heartland at the Hebridean Celtic Festival, puts the listener right in the heart of the auditorium.
Aside from the tightness and flare of the melodic arrowhead at the front of the band, what comes across most forcibly is the variety of sounds and often exotic colours that get stirred into the intoxicating brew.
Afro-blues guitar, Arabic ambiences and downright dirty Hammond organ licks propel high octane pipes and fiddle tunes with the more reflective soul ballad setting of Fishing at Orbost and the chilled desert atmospherics of Strictly Sambuca offering chances to draw breath before a recording of Calum Kennedy singing The Skyline of Skye ends the party with a sentimental touch.
From The Herald, December 9, 2017
Chris Stout & Catriona McKay, Bare Knuckle (Bare Knuckle Music)
It's seven years since Shetland fiddler Chris Stout and Dundee-born harper Catriona McKay released their previous duo album, White Nights. In between times came the superb Seavaigers with the Scottish Ensemble and there's a palpable connection with both of these releases here in that the duo continues to refine and explore its approach to the folk tradition while operating at a level of musicality that puts it easily in the chamber music and classical soloist orbits.
Bare Knuckle denotes the gloves coming off and it's an apt title not just for the track of that name but for the album as a whole. This is a duo exposing flesh and feelings in a series of conversations that can go right out to the edge of musical expression, sometimes ecstatically, as in the extraordinary, dizzying, adrenaline-fuelled Moscow Rush, sometimes atmospherically, as witness the keening, majestic impressionism of Tingaholm.
Stout's tonal range and bow mastery – now gliding on Villa-Lobos' Bachianas Brasileiras No 4 Preludio, now choppy as the North Sea in winter – and McKay's sense of enquiry and harmonic strumming and shape-forming are as breathtaking as they are excitingly, gorgeously, emotionally satisfying. A landmark release.
From The Herald, December 2, 2017
Eilidh Shaw & Ross Martin, Birl-esque (Rhubana)
The surprising thing about Eilidh Shaw & Ross Martin's first album together isn't so much that it took them fifteen years of living and playing together to get round to recording it as that they travelled over to the studio at Sabhal Mor Ostaig on Skye to do so.
The result of these daily trips gives every impression that they might have got the fire on in their kitchen in Morar and set a tape running instead, so homely and comfortable with each other do Shaw's fiddle and voice and Martin's guitar sound.
Long years with folk groups the Poozies and Daimh respectively have given their playing character and the mostly instrumental tracks variously swing, march, reel and waltz with a conversational air as Martin provides the relaxed energy that probes Shaw's unadorned phrasing and attention to the melody.
Shaw's song The Lines of Time, although written about an older couple, emphasises this pair's feeling of easy togetherness and while most of the material is Highland in origin, Are You Lonesome Tonight and Can't Help Falling in Love's appropriation as a Gaelic waltz medley and Shaw's soft intoning of Bruce Springsteen's Dancing in the Dark somehow add to the Highland charm.
From The Herald, December 2, 2017
Arthur Cormack, Buanas (Macmeanmna)
A new Arthur Cormack album is an event on two counts. One: it's almost thirty years since the Gaelic singer released the previous album under his own name, although he has appeared on others including recordings by the groups Mac-Talla and Cliar. And two: this one has the sound of an instant classic.
Cormack is renowned for his calm, hands in pockets, onstage demeanour and relaxed, clear, generous imparting of lyrics from down the ages, and here he sings songs from sources known and unknown, from bards of long standing and from contemporary writers. The settings are varied, from the solo, voice-only Ged is socrach mo leaba and the a cappella choral Cnoc nan Craobh to a love song by long-time musical partner Blair Douglas that's set in Portree but has something of a country-cajun waltz feel.
As well as writing two of the tracks, Douglas is at the heart of several arrangements, lending his customary keyboard and accordion warmth alongside a team including Mary Ann Kennedy (harp), Allan Henderson (fiddle) and Chaz Stewart (guitar). Cormack's beautifully placed voice is always the main focus, though, a heartfelt presence that communicates the gamut of emotions with a genuine glow.
From The Herald, November 25, 2017
Scots Fiddle Festival 2017, Queen's Hall, Edinburgh
In its twenty-first year as one of the most prestigious and nourishing events on the fiddle music calendar, the Scots Fiddle Festival has reached the point where its mainstage guests now have memories of attending the festival with their parents or even performing as very young fiddlers in concert.
It's an inclusive celebration with recitals by players such as Argyll master Archie McAllister, workshops for all levels and an outreach project whose participants opened Saturday's concert with admirable vigour and aplomb and might well include future star turns.
Friday's headliner, Graham Mackenzie first appeared at the festival as a twelve year old. Now twenty-five, he returned to perform an autobiographical programme with references including a Celtic Connections Danny award win around the same time as that first Scots Fiddle Festival gig, immersion in Manchester's Irish music scene and exchange trips to Cape Breton. Played mostly with his nine-piece band – essentially a string quintet combined with a folk group – it showcased the finesse he has added through studies at the Royal Northern College of Music and a talent for well-turned melodies and sumptuous arrangements with smart, neatly detailed codas.
Although at different stages of development, Friday's opening act, Glasgow-based Snuffbox and Saturday's bill-toppers, Michigan-born fiddler Jeremy Kittel's trio shared much in common in taking traditional music forward. Snuffbox pitches the current BBC Radio Scotland Young Traditional Musician of the Year, fiddler Charlie Stewart with cellist Rufus Huggan and guitarist Luc McNally and produces music with a great sense of spontaneity in its superbly varied dynamics, easy interchanging of melodic, harmonic and percussive roles, its often raw emotions and sheer character.
Kittel's group with mandolinist Joshua Pinkham and guitarist Quinn Bachand takes the string band tradition into marvellously rarefied levels of collective virtuosity. Playing a repertoire that ranged from bluegrass to a startling Bach partita to a cunningly modulating strathspey and reel set, they too sounded thrillingly spontaneous and they finished by inviting Patsy Reid, who had preceded them with strongly characterful Perthshire tunes before introducing her international band, for an exhilarating, impromptu twin fiddle medley.
From The Times, November 20, 2017
Top
Richard Thompson, Usher Hall, Edinburgh
There is an album being promoted on Richard Thompson's current tour and not untypically he managed simultaneously to pooh-pooh his latest work, Acoustic Rarities, and bring it to the audience's attention.
Thompson is the master of self-deprecation just as his fifty years as a professional musician, which he referred to with bashful pride, has honed the guitar playing and songwriting talent he showed way back with Fairport Convention into something approaching live film direction.
There are songs such as – handily - They Tore the Hippodrome Down where Thompson becomes scriptwriter, narrator, soundtrack composer and six-string orchestrator, using words and guitar to establish an atmosphere, senses of both era and place. With the flick of a wrist he sets up opening song, Gethsemane with film noir intrigue and on the appropriately rockin' in rhythm Valerie, while his voice depicts the ultimate femme fatale, if not without humour, his guitar takes on Duke Ellington-like locomotion and horn interjections.
Thompson will tell you that he does two types of song: medium tempo miserable ones and slow miserable ones. Crocodile Tears, he reckons, is almost happy, although its cynicism is positively gleeful as a he skewers the man who's taken his place in the affections of a former lover who's "as warm as a reptile can be."
This is classic Thompson and there was much more, some of it spontaneously included by shouted requests and the odd one where a verse eluded him but was mirthfully chivvied into line just in time. His is a rare talent and what makes it all the more valuable is his very personal presentation. Most of this audience will only know him through his records but they'll have left feeling as if they've just spent the evening with an old mate.
From The Herald, October 21, 2017
Leveret, Traverse Theatre, Edinburgh
Five minutes into this beautifully presented latest instalment of Soundhouse's Monday music series, Leveret's Andy Cutting announced that there would be no singing. This was amusingly couched in a mock officious tone that didn't quite make it clear whether the trio onstage wouldn't be including songs in their set-list or that the audience should refrain from bursting into song.
No matter, songs were not required from either party, unless they were songs of praise from the listeners, because there's a lyrical quality to the music Cutting, on accordion, and his colleagues, concertinist Rob Harbron and fiddler-violist Sam Sweeney, make. Even as they play dance tunes – and much of the two sets consisted of hornpipes, jigs and the like – the melodies unfold like stories, bobbing and bouncing genially.
The trio sit as if round an imaginary kitchen table, teasing the tunes into spontaneous arrangements conversationally. No two Leveret gigs are the same and this development "on the fly", to use their term, pleasingly blurs the line between the sixteenth and seventeenth century tunes they've learned from old manuscripts and the pieces they composed for their all-original third album, Inventions.
It's mesmerising and lulling by turns and very much in the spirit of the great albums, such as the still glorious, understated Lusignac, that Cutting made with Chris Wood in the 1990s. Fiddle and concertina weave together as the accordion adds a counter melody, subtle passing chords or big rich, church organ-like bass figures, or a whistling, high-pitched harmonic adds an eerie meteorological commentary to one of what Harbron calls his protest songs, which generally have a weather-related theme. I wouldn't want to add to the problems that rain getting into his wood pile brings but if it produces music this lovely, let it pour.
From The Herald, October 13, 2017
Fiona Ross, Clyde's Water (Tradition Bearers)
Partick-born Fiona Ross lives in Melbourne these days but she retains all the feeling for, and the ability to transmit, the Scottish song tradition that she developed on the folk scene here before moving to Australia.
Through one of her teachers, the admirable Andy Hunter, Ross is at one remove from the great traveller ballad singer Jeannie Robertson and through other sources of songs and support, such as Gordeanna McCulloch and Alison MacMorland, she has formed a character that allows her to tell both long-form ballads and shorter story songs with that crucial ingredient: believability.
Accompanied by superb guitar playing from another expatriate, Tony McManus, with added fiddle, whistles and harmonium from John McCusker on some tracks, Ross manages to bring great portent to a brief, vengeful The Burning of Auchindoun and by contrast, she clearly delights in The Laird o Cockpen having his pomposity punctured.
A lovely, unaccompanied reading of The Seasons, learned from Jeannie Robertson's daughter Lizzy Higgins, illustrates the clarity and true tone of Ross's singing and she and McManus form a particularly nimble duo on illicit still tale Yowie wi the Crookit Horn to underline the diversity of both singer and song tradition.
From The Herald, September 23, 2017
You only have to witness a Celtic Connections Skipinnish night, with Glasgow Royal Concert Hall jammed to the rafters with excited humanity, to see how successfully accordionist Angus MacPhail has steered the band into capturing Highlanders across all generations by combining Gaelic tradition, dance band nous and an open admiration for Runrig's anthemic, rocking songs.
The band has even enjoyed a download hit single – the inherently catchy, danceable 'Walking on the Waves', included here – as it represents a true picture of Highlands and Islands life and champions Gaelic resurgence. There's at least one fishing boat skipper in the line-up, a fact that lends credence to the shanty-like 'Ocean of the Free', sung in strong recent addition, Norrie MacIver's proudly Hebridean brogue, and brings emotional weight to 'The Iolaire's' disaster at sea narrative.
With pipes, fiddle and accordion tune sets boosting musicality and energy levels, this seventh album is generally uplifting, nowhere more so than on the Runrig favourite, 'Alba', borne on guest guitarist Davie Dunsmuir's superbly aerated riffing, and 'Crò Chinn T-Sàile', which soars all the higher with the Skipinnish choir's Gaelic psalm-singing.
From Songlines, August-September 2017
Donald Black, Bho M' Chridhe/From My Heart (own label)
The Argyll-born harmonica virtuoso Donald Black brings sessions from Nashville to Nova Scotia and from Lewis to the Lothians together on this aptly named instrumental album.
Black's heart is indeed in the Highlands as he transfers the music of the bagpipes and the swinging Western Highland dance bands to the humble moothie with great feeling and absolute mastery. Yet there are audible influences from across the Atlantic in his playing too.
Bringing in Charlie McCoy, the author and player of The Old Grey Whistle Test theme, on Skye composer Blair Douglas' New Island Waltz is an especially nice touch as Douglas, like Black, draws on both peat lands and prairies for inspiration, and the rollicking Canadian-Scottish dance set, with Cape Breton pianist Mario Collosimo, underlines Black's ability to sound as commanding as the great accordionists of the dance music tradition.
In among the marches and dance sets, including The Highland Express's initial bluesy chuff, there are superb examples of Black's heartfelt slow air playing, with Runrig's Malcolm Jones on guitar and Martainn Skene on cello helping to wring out every ounce of atmosphere on MacCrimmon's Lament and The Edge of the White Rock respectively.
From The Herald, June 16, 2017
Bellevue Rendezvous, While Rome Burns (Journeyman)
A Scottish-based trio with a French-sounding but actually Edinburgh-derived name, Bellevue Rendezvous find inspiration across a wide arc that includes the Scandinavian countries, Galicia, Poland and Armenia as well as sources closer to home.
This third album begins with a carefully measured tune from fiddler Gavin Marwick that could easily be Eastern European in origin and instantly signals the group's ease with material that soon finds them dovetailing fiddle, its keyed Swedish cousin, the nyckelharpa, and cittern in sometimes dizzying dance meters and tunes that combine soulfulness with celebration.
As with Swedish masters Vasen, who are just one of their many influences, Marwick, Ruth Morris and Cameron Robson have developed a natural choreography where their instruments' roles interchange and create a wealth of colour, contrast and vibrancy as exemplified by the closing Armenian dance, Hicazkar Sirto.
Robson's Piping the Fish, despite its slightly wacky origins, is hauntingly ceremonial and in typical Bellevue Rendezvous style, slips with apparent effortlessness into the traditional Source of the Spey, and the Galician pairing of K and Jota da Gheada underlines the fun, as well as doubtless considerable playing time, that goes into creating music of such high calibre.
From The Herald, June 2, 2017
Twenty-eight years into their touring and recording life together the three musicians who make up Sweden's folk music phenomenon Vasen know their places in the music. There's a natural flow to each of these fifteen new compositions that sounds effortless and yet there's bite in the combined attack of nyckelharpa, five-string viola and twelve-string guitar and an audible sense of enquiry that keeps the music fresh and invigorating.
Much of the music is based on the traditional polska dance measure but its three-beats rhythm is anything but limiting. Melodies cascade and dance with energy before slipping into more reflective passages and the instrumental grouping can sound almost orchestral in size one minute and intimately delicate the next.
Trostemarsch was written in consolation for the trio's many American friends (they have a street named after them in Bloomington, Indiana) after the presidential election, although there's little here that sounds anything other than optimistic, and even the mellowest and most atmospheric tunes, such as the cunningly titled Mellow D and Jungfrun Av Norge, have a brightness about them that's completely enchanting and involving.
Dedicated fans will know what to expect, while still finding surprises; new listeners are in for an adventurous treat.
From The Herald, May 26, 2017
Snuffbox, Playing for Free (Skye)
The unpromisingly titled Onions is one example of fiddler Charlie Stewart hiding his light under a bushel and the catch-all opening track's name, Reels, is another but Onions already has some history behind it, being one of the items that Stewart played in his marvellously expressive, victorious set in the BBC Radio Scotland Young Traditional Musician of the Year final in February.
Snuffbox are Perthshire-born Stewart, cellist Rufus Huggan and guitarist-vocalist Luc McNally and as with the fiddler's Young Trad appearance, this, their debut album sings with energy, vitality, rugged adventure and sweet musicality.
Far from the nondescript set its name might suggest, Reels showcases the trio's strong collective personality brilliantly, with Stewart displaying passion and daring variations and the three instruments variously taking turns as the lead voice, racing off in invigorating unison or offering superbly effective harmonic support.
Yer Maw's finds the trio in wilfully, and quite intoxicating, adventurous mode and McNally contributes the sensitively sung Down the River and Sleeping Stars. It's Onions, however, that offers the killer entry point as Stewart's affecting lament-like slow air develops into the kind of melodic teasing and dramatic pacing that Martin Hayes has turned into an art form.
From The Herald, May 19, 2017
It's all about storytelling on this second album from the English folksinger June Tabor and her jazz-reared colleagues in Quercus, saxophonist Iain Ballamy and pianist Huw Warren.
Whether the material comes from the collecting of a Somerset folklorist, the pens of Bob Dylan, Robert Burns and Stephen Sondheim or the imaginations of Ballamy and Warren, the threesome focus on the narrative, creating by turns dark, charming and pastoral worlds for voice and instruments to inhabit.
Burns and Sondheim bookend the collection, with Auld Lang Syne ushering in a new album as it would a new year, if with more care and economy, and Somewhere similarly being given a hushed, sober and wary reading.
In between there is more to love, including a trilogy of quite different companions – jazz standard You Don't Know What Love Is, traditional ballad The Manchester Angel and Dylan's Don't Think Twice It's Alright - that align perfectly as Warren and Ballamy shadow, support and coax Tabor with a gospel inflection here and a creative melodic phrase there.
Saxophone-piano duets Christchurch and Emmeline underline Warren and Ballamy's faultless judgement before their dance-like bird song appropriation alongside Tabor turns The Cuckoo into a folk-jazz masterpiece.
From The Herald, May 12, 2017
Tradfest: Bagpipes Gu Leor, Queen's Hall, Edinburgh
It was an event that lived up to its name. There were indeed bagpipes, and bagpipe music, galore and if it turned into quite a marathon, it was worth getting a numb bum just to marvel at the contrasting virtuosity of solo Highland piping master Roddy MacLeod and triple-chanter adventurer Calum Armstrong and to enjoy Brighde Chaimbeul's gorgeous, flowing musicality on smallpipes.
As the man responsible for the programme, piper and pipes maker Hamish Moore pointed out, this was as much about the pipes as an instrument for dancing to as listening to and the opening set by his son, Finn and Cape Bretoner Angus MacKenzie illustrated this with tightly together rhythmical urgency and vigorous stepdancing from Finn to Mackenzie and guitarist Ewan MacPherson's accompaniment.
Dance tunes and a lovely Gaelic song air showcased Brighde Chaimbeul's sweet intonation and expressive phrasing before Calum Armstrong introduced the harmonic and chromatic possibilities of smallpipes with multiple chanters in tandem with cellist George Pasca. Theirs was an extraordinary display, with Pasca strumming creatively sympathetic chords and matching Armstrong's dizzying melodies with both bowed and pizzicato lines on waltzes, reels and a piece that managed to evoke French courtly soirees, electric guitar shredding and the James Bond theme.
More traditional but just as engrossing were Allan MacDonald and Seonaidh MacIntyre's smallpipes duets and Gaelic keening as they first took it in turns to sing a haunting foretelling and then brought voices and pipes together in, to all intents and purposes, a high art quartet. Roddy MacLeod's brilliantly fluent marches and swinging strathspeys then gave way to a finale that completed the circle with Finn Moore's hard shoe stepdance.
From The Herald, May 1, 2017
Jonathan the 184-year-old tortoise will probably never know that Kathryn Roberts and Sean Lakeman have put words in his mouth. Whether this venerable inhabitant of St Helena cares about such matters is neither here nor there. It is, however, another example of how a song idea can arrive in Roberts' imagination and the couple's songcraft and musicality will turn it into something rather special, and in this case quite charming despite its introduction as being a bit daft.
The ideas come from all sorts of sources – something their daughter Lily said about school, a passage in a Terry Pratchett novel, the legend behind the naming of Antwerp – but the results are entirely consistent.
It possibly helps that Roberts and Lakeman have studied great songwriters closely; Sandy Denny's Solo, sung beautifully early on by Roberts, and Warren Zevon's For My Next Trick I'll Need a Volunteer were two examples of their favourites delivered here. The folksong tradition is also part of this process as, in addition to singing the Child ballad Child Owlet, they've turned the Pratchett quote and the story of a lonely whale, 52 Hertz, into songs that could easily become source material of the future.
All of this wide range is presented with a genuine warmth of personality, wonderfully clear, honest singing from Roberts and expert guitar accompaniment from Lakeman, a man who knows when to apply a rockin' attack and when to let the song carry its own momentum or embellish with precise delicacy. With Roberts adding understated keyboard and occasional flute they're entirely self-sufficient, a travelling show of no little folk wisdom and generous entertainment.
From The Herald, April 13 2017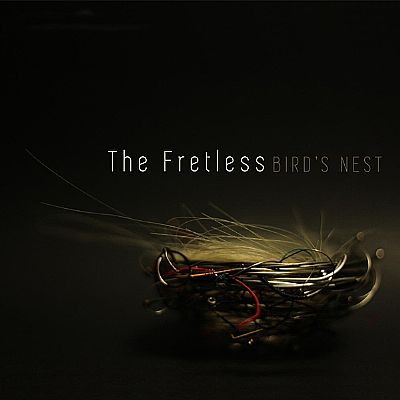 The Fretless, Bird's Nest (own label)
Canadian foursome The Fretless have won several prestigious awards at home for an approach to music that puts them broadly in the same virtuosic, searching 'folk on the cusp of chamber music' camp as Scottish marvels Catriona McKay & Chris Stout and Scandinavians Dreamers' Circus.
With three fiddlers, all doubling on viola, and a cellist, this is essentially a string quartet and the players involved bring the temperament and musicality of that tradition to music that has its roots in Irish and Scottish dance metres, old-time Americana, bluegrass, swing and occasionally something more akin to a pop song structure.
The tunes are catchy and the arrangements full of imagination, detail, energy and tonal variation as jigs and reels modulate with winning unpredictability, a Steve Reich-like figure bursts into swashbuckling percussive attack, strings shiver with almost backing vocal-like murmuring behind a sweetly nimble melody, and the band rocks with gritty urgency.
Opening track Alphonzo McKenzie's sings with harmony to smart chip 'n' strum accompaniment and Maybe Molly takes a back porch hoedown on an improvised but highly disciplined adventure. Word is they might be over this way in the months ahead; they'll certainly be worth catching.
From The Herald, March 31, 2017