Ypsilanti, Michigan's greatest gift to the blues and jazz world, Barbara Morrison is so convincing in portraying the queen of the blues, Dinah Washington that sometimes you have to remind yourself that it's not her own seventh husband she's talking about or her own gun she pulled on an untrustworthy agent.
Morrison sings as herself, using lived-in and elastically expressed songs from Washington's eventful and majorly successful career to thread "The Queen's" story together from church choir to stardom through hardship, mischief, husbands (they all "Had. To. Go"), road tales, and helpful professional advice from jazz and blues masters including Lionel Hampton and Joe Williams.
With a deferential band comprising local players Jimmy Taylor (bass), Bobby Stewart (drums), Phil Adams (guitar), and Tom Finlay (keyboard), Morrison delivered Come Rain or Come Shine with mostly the latter, had everyone on their feet for Every Day I Have the Blues and localised Ain't Nobody's Business with some, hopefully unfulfilled, promises of misbehaviour. A fun and very real session with a singer who quickly and emphatically got the show's titular wish.
Run ends August 10.
From The Herald, August 8, 2016
Joe Stilgoe: Songs on Film, Assembly Checkpoint, Edinburgh
Joe Stilgoe appears not to have had a misspent youth. Judging from this latest instalment of his survey of songs and related films – and its predecessors – every waking hour that led up to the suave, effortlessly entertaining Mr S becoming a jazz musician was devoted to accruing knowledge of the cinema and ingesting soundtracks.
The overture here, with Stilgoe alone at the piano in a Darth Vader mask, was a superb appetiser with an, at first, apparently random but presently wittily assembled running order establishing a connection with the audience that grew as he was joined by bassist Tom Farmer and drummer Ben Reynolds.
They're more than his rhythm section; they're essential parts of the choir-cum song and dance act-cum-sound effects unit that delivers Stilgoe's own cineaste's catchy boogaloo What's On, investigates Tom & Jerry-esque slapstick and visits Sweet Charity with impressively smooth voice and double bass aplomb.
Heaven knows how many songs and tunes, not to mention films, are referenced in an hour that's quickfire and yet somehow remarkably detailed, including the suitably eerie, torch-lit finale to the Doors' People Are Strange during the horror section. It's probably best not keep the score – no pun intended - and just go with the flow of an involving, smartly turned and variously rocking, swinging and casually informative presentation.
Run ends August 27.
From The Herald, August 5, 2016
David Patrick Tentet, Festival Theatre Studio, Edinburgh
David Patrick might not thank me for saying this right at this moment but the Edinburgh-based pianist should have a look and see if there are any more orchestral works that were premiered in 1913 that might have second lives as jazz pieces.
Following on from his excellent adaptation of Stravinsky's The Rite of Spring, which he has now recorded and which was reprised as an unlikely appetiser here, Patrick has tackled the Rite's almost exact contemporary, Debussy's Jeux, and recast it as a splendid, if anything more natural, swinging jazz ballet.
Adding two German musicians, violinist Max Grosch and Mark Lotz on flutes and piccolo, to the Scottish-German octet that performed the Rite, Patrick skilfully created an impression of greater instrument numbers and gave the piece a strong sense of storyline and momentum through both orchestration and the musicians' soloing opportunities.
It's a band replete with personalities, with Lotz providing forceful piccolo in the initial waltz and later taking a marvellously expressive wooden flute solo and the more familiar Tom MacNiven effervescing on trumpet and saxophonist Stewart Forbes, deputising admirably for the indisposed Brian Molley, making every softly singing note count in his tenor ballad sequence.
Being more of an extended waltz, Jeux doesn't have quite the same attention-grabbing rhythmical bumps as the Rite, but it has much affecting writing, such as the descending figure that Grosch played with beautiful finesse before passing it on to Lotz on piccolo, and its ending, witty and piquant, may not provide the kind of blasting finale favoured by big bands but it was all the more refreshing for that.
From The Herald, July 28, 2016
Jan Garbarek Group, Festival Theatre, Edinburgh
It must have been something to be Jan Garbarek these past forty years and more: getting up in the morning, knowing that when you blow into your instrument you're creating one of the most beguiling, instantly recognisable sounds in jazz. The Norwegian saxophonist hasn't always appeared to revel in such fortune. He can seem quite severe, which he's not, and there's an austere beauty in some of his music.
As with his previous visit to Scotland in 2010 only more so, however, there was lightness and buoyancy and fun at work here. Bass guitarist Yuri Daniel and percussionist Trilok Gurtu laid a springy undercurrent, as well as much musical colour beneath Garbarek's marvellously burnished tone on tenor and soprano and even the often inscrutable Rainer Bruninghaus got involved in keyboard frolics in his solo feature and duet with Daniel.
If I had a reservation about a concert that produced entrancing, dancing folk themes, magnificent tenor ballad playing and a further engrossing example of Gurtu's inimitable water music – he even made the bucket containing the water a musical instrument – it was that the lengthy solo features sometimes interrupted the flow of a fabulous, and fabulous sounding, ensemble.
That said, the playfulness that Garbarek showed, especially in his duet on selje flute with Gurtu's frankly amazing tabla fingering combined with an, as always, beautifully tuned, singing drum kit, and his digging in on Herman and Gurtu's funk groove were worth turning up for in themselves. So too the encore, complete with handclaps and audience participation, of Steve Winwood's Had to Cry Today from the Blind Faith album. Nobody, surely, saw that gem coming.
From The Herald, July 22, 2016
Emmet Cohen Trio, Festival Theatre Studio, Edinburgh
Emmet Cohen arrived on the jazz scene a generation or two too late to join Art Blakey's Jazz Messengers but the Miami-born pianist is just the kind of youthful talent that Blakey thrived on having alongside him. Cohen also has the jazz message and is a fine evangelist for the music, having its history on the tip of his tongue as well as in his very accomplished fingers.
His concert on Tuesday was one of a number he's involved in this festival and in a young professorial way he took his subject as the piano greats and imparted informed observations ahead of pieces illustrating the legacies of such masters as Nat King Cole, Bud Powell, Thelonious Monk, and the undersung Cedar Walton.
In Cohen's eyes, jazz is street music and his playing, though virtuosic, is very clear, direct and communicative. He swung Bud-hard on Powell's Celia, played cultured blues on Walton's Hindsight and took Monk's Round Midnight into a compendium of dance metres, all the time working closely with and testing the fortunately highly tuned anticipatory skills of his superb drummer, Bryan Carter and Glasgow-born, now New York-based double bassist, Aidan O'Donnell.
This year's festival cover star, Carter also sang The Nearness of You beautifully and with great soulful poise in a detour between Cohen showcasing his own compositional talent on Distant Hallow, on which his right hand improvised melodically while his left dampened and plucked the strings effectively, and celebrating Fats Waller with a slightly over-extended medley that nonetheless underlined again this still only twentysomething musician's grasp of where jazz has been and where it might be going.
From The Herald, July 21, 2016
Pixel, Festival Theatre Studio, Edinburgh
Ellen Andrea Wang is not the first Scandinavian woman to make currency from the line "I want to be alone". It's unlikely, however, that the supposed originator of the quote, Greta Garbo, who later denied that's what she said, would have been playing a big, loping double bass figure at the time in a band that marries the spirit of free jazz with a pop sensibility and has a liking for inserting spot-on, three- and four-part vocal harmonies into a tousy blast of trumpet and tenor sax duetting.
This is Pixel, four Norwegians who are making some of the most refreshing, uninhibited, searching and accessible music on the world jazz scene at the moment. And they're doing it on their own terms. If they want to sing about having the right to go to the generic place where Norwegians go to catch the sun, Syden, they will, and if the result sounds like Don Cherry meets the Andrews Sisters with lyrics by Quantum Jump, that's our good fortune.
Much of this concert was simply lovely. Wang and her colleagues, trumpeter Jonas Kilmork Vemoy, saxophonist Harald Lassen and drummer Jon Audun Baar, have a wonderful way of pacing their notes, sounds and rhythms, with Vemoy using judicious, subtly enhancing electronic effects.
They can be attractively broody, as is the Nordic way, but there's also free-flowing energy at play, not least in Call Me, where Wang gets close to frantic in a twisting, intricate vocal line that's underpinned by an assertive, muscular bassline, chorusing horns and Baar's relaxed urgency. They're back in Scotland in September; try to see them if you can.
From The Herald, July 20, 2016
Magnus Öström Band, Queen's Hall, Edinburgh
It's now eight years since Swedish pianist Esbjörn Svensson, leader of the trio known as e.s.t., died in a diving accident, aged just forty-four. The final project discussed by Svensson and his group, a collaboration with a symphony orchestra, will be released later this year. Meanwhile, the surviving members are leading their own bands and forging their own styles.
While e.s.t. took jazz from the Thelonious Monk era as an inspiration to point towards the future, drummer Magnus Öström is creating music that's evocative of prog rock's 1970s heyday with the added penchant for repetition for effect that's drawing listeners towards bands currently on the fringes of jazz such as GoGo Penguin and Mammal Hands.
Öström seems quite open about finding comfort in the music and places he visited in his youth, recalling with fondness The Green Man and the French Horn, a pub he frequented while living in London in his early twenties that is now celebrated in the ballad of the same name that features on his latest album, Parachute.
His prog-rock muse has been apparent for some time. Longing, a track from an earlier album that featured in the second set, was reminiscent of prog heroes Camel and achieved more of a natural flow than the newer pieces where the interlocking of guitar, bass, keyboards and Öström's determined drumming often produced an effect that was more easily admired than loved.
He's an engaging host, making entertainingly droll introductions, and his drum solo was pure theatre, leading to a finale and encore that trod a fine line but ultimately succeeded in being powerfully hypnotic.
From The Herald, July 19, 2016
John McLaughlin & the 4th Dimension, Festival Theatre, Edinburgh
John McLaughlin began by expressing the hope that as many years wouldn't pass before his next appearance in these parts as passed between this concert and the previous one, and by the time he and the 4th Dimension departed, there was a general consensus that the next time couldn't arrive too soon.
The guitarist's current group has been acclaimed as his best ever. That's quite an assessment. He's had a few contenders but there's something about the chemistry between this quartet, a gathering from three continents – Asia, Africa and Europe - with influences from a fourth - America, that's special.
Sure, there's the expected virtuosity, the quick-fire phrases played with intensity and picked up in ensembles as if by telepathy. But there's also directness, communication, excitement, beauty, and tenderness. To all intents and purposes, this is a blues band, if one operating at a rarefied level and with 'Indo-bebop' as the blues' prefix.
Homages to absent friends appeared throughout the set: to Jaco Pastorius, briefly in the encore; to Carlos Santana, in a marvellous ballad duet of CS between McLaughlin and Gary Husband on keys and in the guitar tone and phrasing on Pharoah Sanders' lovely Light at the Edge of the World; and to Paco de Lucia in the soulfully delivered El Hombre que Sabia.
The unstated absentee was Miles Davis. There weren't many occasions when McLaughlin's mentor's trumpet couldn't have slotted in and he'd surely have approved of Ranjit Barot's vocalised rhythms and ultra-dynamic drum conversations with Husband, of Etienne M'Bappe's extraordinary, meaningful bass guitar facility, and of McLaughlin's own apparently undimmable passion, grace and fire.
From The Herald, July 18, 2016
Marcin Wasilewsky Trio, Queen's Hall, Edinburgh
Message in a Bottle was a game changer. The Police hit, as played by Polish pianist Marcin Wasilewsky's trio in this opening night concert, may have simply continued jazz's long tradition of appropriating pop songs but it also illustrated how this group can take material from other sources and render it almost as if they'd composed it themselves.
With Wasilewsky's powerful left hand attack pushing it purposefully along, the song also brought the concert out of an initially contemplative, careful mood, with the opening ballad giving an impression of this world travelling group casting thoughts towards more troubled parts, into the joyous, clear, precise and spring-heeled music-making at which it excels.
Wasilewsky, bassist Slawomir Kurkiewicz and drummer Michal Miskiewic have been working together for over half of their lifetimes, and they're not exactly greybeards. Their twenty-plus years' partnership shows, though, in their mutual understanding with Miskiewicz's choices of patterns and strokes especially underlining the feeling of a common artistic endeavour. He might tap sticks on drum shells or fingertips on snare skin or use an altogether less gentle whack on the crash cymbal on an emphatic beat but what he plays is always what the moment requires. So too with double bassist Slawomir Kurkiewicz, who projects a muscular yet melodic, reassuring constancy.
Herbie Hancock's idiosyncratic Actual Proof was another cover version taken convincingly into the group's style, with only its familiar refrain giving its origins away, and of their own compositions, with Wasilewsky's keen improvising richly embellishing a knack for strong themes and pedalling momentum, the beautiful Austin, Wasilewsky's heartfelt dedication to tragic young pianist Austin Peralta, particularly stood out.
From The Herald, July 18, 2016
Pete Hurt Jazz Orchestra, A New Start (Trio)
Despite a considerable pedigree, being the sort of player such revered jazz figures as composer-bandleaders George Russell and Carla Bley have employed profitably, London-based saxophonist Pete Hurt has remained largely in the music's shadows over the past four decades.
This is his first release since 1994 and while he's been busy elsewhere, including writing arrangements for West End musicals, its quality makes one wish he might issue more regular bulletins.
He writes strong, quickly memorable, optimistic melodies, often using simple, very effective ideas such as having different instruments and contrasting ensembles playing them as if in conversation, and his orchestra, which includes French horn and tuba alongside four saxes, three trumpets, three trombones and rhythm section, strikes a marvellous balance between light mobility and bustling power.
It's all beautifully voiced, whether the mood is tender, prowling (as on Blues in the Dark's insistent groove) or suggestive of ordered mutiny (Forbidden Fruit), and it's delivered with warm, sumptuous accomplishment contrasted at times with raw soulfulness.
From The Herald, July 15, 2016
Stu Brown's Twisted Toons, Volume 2 (Cadiz)
Clearly Stu Brown's previous album of cartoon music wasn't a case of that's all folks, and thank heavens too because this second volume, in which the drummer and his merry band reproduce entire scores from Tom & Jerry, Roadrunner, Droopy and Porky Pig adventures, as well as covering Bill Frisell's work for Gary Larsen's Tales from the Far Side, is a belter.
Resist smiling if you can as Brown's meticulous arrangements merge menace with carefree jollity and mix seriously detailed precision with spontaneous creativity and downright brilliant impudence.
Every track is a gem of painstaking orchestration but the slaloming Powerhouse is frankly exhilarating, Goblins in the Steeple a marvellous collision of society ball breeziness and measured spookiness and the jazz-reggae treatment of Carl Stalling's Screwball Wabbit Theme an absolute delight.
What's especially pleasing is having players including trumpeter Tom MacNiven, keyboardist Paul Harrison and saxophonist Brian Molley both carry out minute instructions and express themselves so openly.
From The Herald, July 1, 2016
Kamasi Washington, QMU, Glasgow
He wasn't kidding about taking us on a journey. It's a common enough promise, except it's not often fulfilled with the generosity of spirit, sheer musicality and all-round entertainment factor that saxophonist Kamasi Washington and his band brought to the stage before a packed QMU.
This had the feeling of being special just from seeing the queue outside. Jazz needs more queues and it could do with a few more characters like Washington, who not only communicated in a friendly, mirthful way – his tales of his band's and his own exploits as they grew up together were priceless – he appeared to gather up all that had gone before in his final tenor solo and send the journey to its logical conclusion.
Along the way his band, who came on as the coolest dudes on the planet and lived up to the image, had grooved, funked, swung and shared a feeling of joy. The music's sunny and anthem-like and while everyone gets a party piece, they're all musical party pieces, including double bassist Miles Mosley's extraordinary wah-wahed, bowed and fingered tour de force and the, at times whispered, conversation between drummers Tony Austin and Ronald Bruner Jnr.
There were occasional throw backs to the 1970s in keyboards player Brandon Coleman's Vocoder work and Keytar solo, with their nods to Herbie Hancock and George Duke, but the latter became ever sweeter as he incorporated the frontline – Washington, trombonist Ryan Porter and Washington's dad, Rickey on soprano, and girlfriend, vocalist Patrice Quinn – in its resolution. Best of all, we got sent off with a refrain from The Rhythm Changers that lodged in the brain and truth to tell, hasn't left yet.
From The Herald, June 30, 2016
Joe Locke Quartet, Old Fruitmarket, Glasgow
During Glasgow Jazz Festival's early years vibraphonist Joe Locke became a familiar visitor. So having him as guest on the festival's thirtieth instalment for what, in most years, has been the final concert slot was a good idea in theory. It became an even better idea in practice within moments of Locke's quartet arriving onstage.
The New Yorker has never been exactly shy and retiring but the flamboyant, almost balletic gracefulness with which his four mallets whiz through the air is matched by a soulfulness in his phrasing as well as a supernatural fluency and unerring musicality. If jazz is – on one level – the art of renewal, then Locke is its master. His version of Laura took a standard that's been recorded hundreds of times and made it at once warmly familiar and daringly contemporary.
His creativity was mirrored and supported by a superb rhythm section in which Sardinian pianist Alessandro di Liberto's fingers appeared to be an extension of Locke's mallet-bearing hands, such is the pair's compatibility, and bassist Darryl Hall and drummer Alyn Cosker swung and rocked in tandem with muscle and subtlety in equal proportion.
A vibes-piano duet dedicated to Di Liberto's mother was a tender marvel and if Locke's instrument often appeared to be singing with his very personalised use of vibrato, it was doing so with wit and lightning speed of thought as he slipped Freedom Jazz Dance's tricky melody into his breezy extemporisation on an ultra-groovy take on Sonny Rollins' No Mo'.
Young quartet Square One's excellent opening set, complete with guitarist Joe Williamson's specially commissioned In Motion, enhanced the festival's 30 under 30 initiative with both thoughtful and invigorating playing.
From The Herald, June 28, 2016
Mammal Hands, Hug and Pint, Glasgow
Fergus McCreadie is one of Glasgow Jazz Festival's 30 under 30, the cadre of young Scottish talent at the heart of this year's festival, and he gave everything to this gig except his name. The still teenaged pianist was the other player in guitarist John Patton's duo, listed as support, but he was no makeweight. His compositions took up around half the set and showed more than just youthful promise and his support of Patton's expressive lines and his own improvisations showed why he's been talked about since winning the under-17 section of the Young Scottish Jazz Musician competition aged 15.
There's something exhilarating about hearing McCreadie create often speedy but always logical phrases in the moment and the narrative shape and communication he puts into his soloing shows someone with a genuine aptitude for the jazz tradition.
Norwich trio Mammal Hands are the sort of band that has jazz people asking if their music really is jazz, although there are echoes of Pharoah Sanders and possibly even Dave Brubeck's world music experiments in their style. Their strengths are based on mood and arpeggios, with saxophonist Jordan Smart's swirling, imprecatory tenor and plaintive soprano lines soaring over brother Nick's repetitive figures while Jesse Barrett's effervescent drumming and occasional use of tabla add direction and extra dimension.
In the compact space of the Hug and Pint basement it was easy to get caught up in the music's spiritual qualities and the physical excitement of being so close to its creators. Whether the CD or vinyl-listening experience has quite the same appeal, I'm not sure but they certainly fired this audience with enthusiasm.
From The Herald, June 27, 2016
Ryan Quigley Big Band with Hamish Stuart, Old Fruitmarket, Glasgow
Ryan Quigley introduced Hamish Stuart as the main attraction with a dismissive gesture towards the musicians behind him. His tongue was in his cheek, of course, as regards "the swing-jazz nonsense" that had preceded Stuart's arrival and although the former Average White Band singer had drawn a significant portion of the audience, Mr Q certainly shouldn't talk down his own contribution, as arranger especially, to the concert's success.
Stuart enthused about the rare treat of singing with a big band and he could hardly have had more apposite, more imaginatively worked arrangements than the chorale that wrapped itself around his now careworn but still mightily expressive voice on Stevie Wonder's Love's in Need of Love Today or the chart that made Person to Person not so much Average White Band as Magic White Band with its a cappella saxophone section ferment and the trumpets relaying its familiar guitar vamp.
Quigley gave his musicians generous soloing space, with Konrad Wiszniewski and Paul Towndrow igniting soulful flames and Helena Kay offering a more reflective perspective among the saxophonists, and he improvised mellifluous flugelhorn lines himself in counterpoint to Stuart's passionate reading of Ray Charles' Just for a Thrill.
These and the ensemble harmonies, punctuations and grooves were all in the interest of creating a partnership between singer and orchestra, however, and Stuart revelled in the team work, inviting the audience to join in on his now more keenly felt than ever How the Mighty Fall homage to Muhammad Ali, returning to AWB's 1970s pomp with the evergreen Cloudy and confirming his continuing songwriting talent with a fine encore in No More Days.
From The Herald, June 27, 2016
Scottish German Jazz Collective, City of Music Studio, Glasgow
Two Unesco cities of music, Hannover and Glasgow, combined in jazz harmony to bring together the septet of musicians featured in this early evening concert. Saxophonists Adam Jackson and Michael Butcher, bassist Brodie Jarvie and drummer Stephen Henderson have been visible and audible presences on both the Glasgow and wider Scottish scenes in recent years and their German counterparts projected a similar and certainly compatible level of accomplishment.
Singer Anja Ritterbusch, who has actually been based in Glasgow for the past year, fronted the group with confidence, her often wordless singing lending a distinctive tone to the music as well as reinforcing the frontline's impact, and pianist Eike Wulfmeier brought admirable clarity to the role of accompanist while also improvising with strong ideas, sensitivity and energetic attack where appropriate.
With five composers contributing to the repertoire, there was a good variety of styles and approaches and work by prominent poets from both countries, Robert Louis Stevenson and Rainer Maria Rilke, stitched in with imagination, added to the music's character. Rilke's Liebeslied, delivered by Ritterbusch and the rhythm section took on impressive urgency and a definite shape in song form and there was poetry of a more atmospheric kind in Jackson's initially celebratory but also quite dark Amsterdam.
Jackson also provided the buoyant set closer, For Folk's Sake, whose smart entwining of traditional music and jazz phrasing and effective use of Butcher on soprano saxophone and Arne Pünter on tenor belied its rather weary, if apt, title and gave way to a fine series of traded choruses between the composer on alto and Wulfmeier on piano.
From The Herald, June 27, 2016
Fly/New Focus, Old Fruitmarket, Glasgow
It was appropriate that some of the local talent that Glasgow Jazz Festival has made it its business to champion throughout its history should make the first sounds onstage at the festival's flagship venue on this, the event's thirtieth instalment.
Saxophonist Konrad Wiszniewski and pianist Euan Stevenson's New Focus has been a great advertisement for the Scottish scene since its formation in 2011 and in a brief set that managed to be both satisfying and an appetiser for more, the quartet previewed the imminent second album, New Focus On Song, suggesting that extra grit has been added to the folk and classical-inspired, melodic assurance that has become the leaders' trademark.
Stevenson's Corea Change was a pacey, dynamic homage to a keyboard hero that perfectly captured its subject, Chick Corea's musical character and the compositional talent was enhanced by collective accomplishment and superb individual skill, not least from Wiszniewski on soprano.
Composition is a key ingredient in the music of illustrious saxophone, bass and drums team Fly, with Larry Grenadier's varispeed bassline on saxophonist Mark Turner's slowly evolving Brother Sister and Grenadier's own bebop-swing tribute to fellow bassist Oscar Pettiford giving fine examples.
The preparation almost became secondary to the execution, however, as the three musicians' roles became interchangeable in a fascinating display of group dynamics in which Jeff Ballard's crisp, creative drumming, Grenadier's wiry, tenacious bass playing and Turner's mellifluous tenor lines took turns to lead and support.
If the ensemble approach could occasionally be quite dense, then the encore showed them in an entirely clear, direct and groovy light, playing a Ballard-led boogaloo that while intricately detailed, might well have filled a dancefloor.
From The Herald, June 24, 2016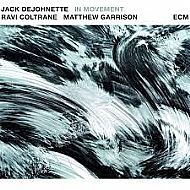 Jack DeJohnette/Ravi Coltrane/Matthew Garrison, In Movement (ECM)
The surnames alone make this session tempting and if it included a pianist-offspring of McCoy Tyner it would be almost poetic in its projection of John Coltrane's legacy.
As it is drummer DeJohnette, Coltrane's saxophone-playing son, Ravi, and Matthew Garrison, bass guitarist son of Coltrane's bassist, Jimmy, serve that legacy beautifully while also presenting a new sound of their own.
The opening Alabama, with Coltrane the younger on tenor, both restates his father's eloquent, wonderfully paced response to the infamous 1963 bombing of a Birmingham Baptist church and underlines its contemporary relevance with its suberb, soulful delivery.
There are equally heartfelt remembrances of musical personalities in Two Jimmys (Garrison senior and Hendrix), Blue in Green (Miles Davis and Bill Evans), Serpentine Fire (Maurice White) and the freewheeling Rashied (for drummer Rashied Ali). If Alabama nails the historical reference, the title track, with Coltrane's plaintive soprano swooping, soaring and curling over Garrison's bass and electronics backdrop and DeJohnette's authoritative pulse, points the way forward with certainty.
From The Herald, June 3, 2016
Espen Eriksen Trio, Jazz Bar, Edinburgh
His group's initials would make it very easy for Norwegian pianist Espen Eriksen's trio to slip into conversations the way its Swedish counterpart E.S.T. did on its arrival onto the international jazz scene, and there are facets of its music and arrangements also that invite comparisons with the Swedes, not least the sonic variety and imaginative detail that drummer Andreas Bye produces with brushes, sticks, beaters and fingers.
If the association helps to gain Eriksen more listeners, then that will be no bad thing. Just as long as audiences don't expect a clone because the Oslo-based pianist has a style that, as the two sets here revealed, puts his own stamp on the piano, bass and drums format. There are familiar Nordic elements, a certain austerity in the pared-down melodies and a tendency towards ultra-patient development in his improvisations, but the wit and touch and presently the liking for dramatic build-ups strike me as very personal.
Some of Eriksen's compositions have a song without words quality. The bouncy On the Jar might have sprung from a Mussel Shoals soul session, with bassist Tormod Jenset adding a typically underplayed presence as Eriksen dampened the piano strings in his prelude to a fluent, exploratory solo, and On the Sea, with its hand-clapping sections, uses pop simplicity en route to a stirringly intense resolution.
The only non-original, two pieces with guesting, locally-based guitarist, Haftor Medbøe aside, was another treat: We Don't Need Another Hero re-interpreted far from Tina Turner's overwrought style and as involving in its understated way as the later, more aerated and joyous Anthem and the brilliantly worked, gathering ensemble storm of Brian.
From The Herald, May 30, 2016
Shez Raja, Gurutopia (Dot Time)
Bass guitarist Shez Raja leads a group of London musicians who are not short on chops and the ability to cook up a jazz fusion groove and the music here at times calls to mind similarly inclined predecessors such as Tony Williams' Lifetime and the Mahavishnu Orchestra.
It's Raja's melodic sensibility that gives Gurutopia the quality to call the listener back, however, with Song for John, featuring Monika Lidke's wordless vocal, and the punning, Miles Davis-like Sketches of Space, with trumpeter Randy Brecker guesting, easily holding their own alongside Maharaja's urgent raga rock, the wonderfully strutting My Imaginary Friend and the superbly buoyant Primetime.
Raja moves easily between powering the rhythm section's riffs and lending the frontline another very effective voice and his ability to compose memorably as well as give players including saxophonist Vasilis Xenopoulos and violinist Pascal Roggen room to shine makes it easy to hear why Brecker and the ever-exuberant Mike Stern, whose guitar playing energises Rabbits and RocknRolla, answered his calls.
From The Herald, May 13, 2016
Partikel String Theory Quartet, Tolbooth, Stirling
When London-based trio Partikel invited Benet McLean to add a string quartet to their saxophones-bass-drums instrumentation for last year's String Theory album they not only found themselves working with a string section that could bring saxophonist Duncan Eagles' expanded compositional ideas off the page, they appear also to have snared an asset who can offset the cost of touring as a seven-piece and bring a world of new sounds to the group.
McLean, a jazz pianist who happened also to train as a classical violinist, fits right into the Partikel modus operandi of tightly structured ensemble phrases and variously relaxed and urgent rhythmical drive. With an effects pedal and a keen sense of where his violin should be in the overall scheme of things, he can sound like a string quartet, and often a rather larger string ensemble, add horn-like commentaries and almost church organ swells on the music's edges and be right in there alongside Eagles in the front line or double up with bassist Max Luthert.
With drummer Eric Ford playing with superbly measured effervescence and a percussionist's feeling for colour as well as detail, this is music that reaches out and involves the listener very directly. At times dramatically atmospheric – the moodier sequences suggested a phantom contributor … Arvo Partikel – and at other times downright exciting, it shifted easily between sweeping grandeur, plaintive soprano saxophone melodies, tousy tenor and violin riffing, and biting, searing improvisation. They go into the studio on Wednesday to capture the new pieces that have been in development on the tour that brought them to Scotland – there'll be a few people here awaiting the outcome with interest.
From The Herald, May 2, 2016
SNJO plays Brubeck, Queen's Hall, Edinburgh
Bill Dobbins' admiration for the Scottish National Jazz Orchestra's ability to move effortlessly between musical styles, expressed to the Herald ahead of this Dave Brubeck tribute, must have come into the pianist-arranger's thoughts as he prepared the set-list. There were quite a few changes of direction here, all negotiated with SNJO's customary expertise and all scored with a Brubeck scholar's familiarity with and feel for the material as well as a sure sense of mood and development potential that brought a freshness to pieces that, in some cases, go back to the early 1950s.
Brubeck had a musical wanderlust, aided by the U.S. State Department employing him as a musical ambassador, and so impressions of Afghanistan and Japan sat alongside items that drew more conspicuously on the jazz tradition. Dobbins's arrangements and neatly turned piano lines shone a bright light on all of these aspects with his fellow guest, John Nugent, filling the alto saxophone role most popularly occupied by Paul Desmond with a variety of approaches, now cool, now decidedly hot and now wailing the blues.
A call and response dialogue between Nugent and the orchestra on the opening Blue Rondo a la Turk established a tight partnership between soloist and ensemble that endured through It's a Raggy Waltz's ragtime dance, Cassandra's bebop energy and Mr Fats' endearingly slippery New Orleans boogaloo while particularly imaginative settings produced a lovely brass chorale and a fine piano-woodwind intro on Winter Ballad and Rising Sun respectively. Although written by Desmond, rather than Brubeck, Take Five couldn't be omitted and the warmth of Dobbins' arrangement and easy swing of its delivery made for an aptly convivial coda.
From The Herald, May 2, 2016
Bill Laurance, Aftersun (GroundUP)
Percussionist Weedie Braimha doesn't get a co-leader's credit on this latest album from Snarky Puppy keyboards player Bill Laurance but he deserves one for the sheer effervescence of his contribution to the music.
Apparently Laurance almost cancelled the sessions that produced Aftersun because he felt he didn't have enough material. The tunes he delivers are sketchy at times, with Bullet coming across more as an enhanced rhythmical work-out, but in a way that harks back to Sweetnighter and Mysterious Traveller-era Weather Report's use of rhythm and atmosphere, yet also sounds current, Laurence creates music that's dramatic and immediate and even at its most reflective, has drive and sparkle.
Much of it also has a cinematic quality, not least the beautifully developed, soulful Madeleine. The Pines, with its sunny air, loose limbed groove and harmonic forward motion is likely to have advertising agencies with sports car company clients calling while Time to Run, with Braimha's irresistible hand drum clatter, further evokes Weather Report in its determinedly catchy, riffing outro.
From The Herald, April 22, 2016
Tord Gustavsen with Simin Tander & Jarle Vespestad, Queen's Hall, Edinburgh
Less is more. Norwegian pianist Tord Gustavsen has been sharing this credo with an international audience for a dozen years now, since his first album for ECM Records, Changing Places, became one of the label's most successful-ever debuts. Back then he was leading a conventional piano, bass and drums trio and distilling the music he'd grown up with – hymns and classic era jazz – into a singular sort of economical attractiveness.
His latest group, featuring his long-term drummer, the ultra-particular Jarle Vespestad with his wonderful tonal awareness, and the marvellous German-Afghan vocalist Simin Tander, takes Gustavesen's minimalist approach to a new level, creating music of rare beauty.
As on their recent album, What Was Said, every note here was hushed and each syllable uttered by Tander was considered and for the most part delicately phrased, although she can also suggest an inner mounting flame. Indeed, the second of the two Norwegian hymns that opened the concert seemed to take a rather more carnal path than your average example of praise singing.
With the pianist adding judicious, verging on slight electronics and synth bass and their sound engineer introducing the subtlest of shadings, there's almost as much air in the music as there are notes.
And yet it's an entirely self-sufficient sound, lent more drama, atmosphere and presence in live performance. Gustavsen and Vespestad's duet on the gospel-grooved Rull drew the audience in and tugged us along with its steadily magnetic melodic insistence, and Tander's singing of Pashto and English lyrics and her wordless improvising linked with the other pair's poetic tendencies in a way that was quietly, soulfully captivating.
From The Herald, March 7, 2016
Tom Bancroft: Trio Red, Lucid Dreamers (Interrupto)
Brian Morton makes a great point in his sleeve note for this second album from drummer Tom Bancroft's excellent contribution to jazz's piano trio tradition about the near-disappearance of the working band in today's jazz scene.
It's hard to keep any sense of continuity in such straitened times and yet three years on from its debut and with only occasional live appearances since then, Trio Red always sounds like three musicians engaged in an ongoing conversation.
Much of this is due to Bancroft's superbly musical approach to drumming and his natural way of including the listener, even in his more abstract concepts, although his partners, pianist Tom Cawley and bassist Per Zanussi are expert communicators too.
Each of these ten pieces presents its own strong character, along the way incorporating playfulness, quiet profoundness, robust swing, small but very effective details, a wealth of sonic ideas, subtle solo building, and on Bancroft's title track, a gift for melody that conjures rich images and emotion in very few notes.
From The Herald, March 4, 2016